Oysho: Tasteful Loungewear & Underwear in Cairo Festival City Mall, New Cairo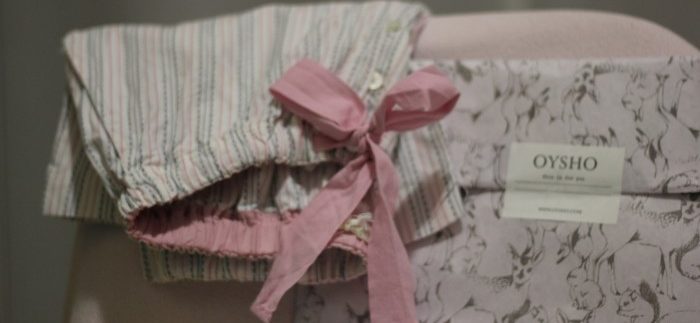 Despite the never-ending shopping scene in Cairo, finding tasteful, quality undergarments and nightwear has often presented a challenge. Started only recently in 2001, Spanish clothing brand Oysho is now an incredibly successful, world-wide franchise, with over 500 stores across the globe.
As well as being stocked on the hugely popular Asos.com, Oysho has opened up a number of branches in several of Egypt's colossal malls; most recently, on the second floor of New Cairo's Cairo Festival City. Throughout our visit, the female shop assistants were both helpful and friendly, without being pushy or over-bearing.
With an all glass front, the brightly-lit interior shows off well-ordered, tidy collections of both underwear sets and pyjamas. The window display immediately sets off a tasteful, girly feel, with pastel colours and pretty floral prints. The front end of the shop is organised with butter-cup yellow, powder blue, lilac and cream bra (150LE+) and knicker sets, lined with cute lacy trims.
Equally feminine camisoles (169LE) and nightdresses are also available, as well as comfortable shorts, or full length pyjama bottoms (229LE) and strap top combos. We particularly liked a pair of paisley print, soft pyjama trousers (229LE), a navy and white striped cami (199LE) with matching knickers, as well as a number of items adorned with a subtle butterfly print. A range of slip-on slippers is also available.
We also spotted a range of novelty sets, with the usual cartoon faces splashed across the front; whilst these don't suit everyone's taste, the quality appears better, and the designs less garish than the usual types found around town.
Towards the back of the shop were a number of sexier undergarments, including black lace and satin Basques (399LE), chemises in a similar design, body suits and lacy knickers (99LE). Despite one of the Basques having detachable suspender fasteners, surprisingly the shop doesn't stock stockings to match.
Also in this section was a practical, quality range of plain black, white and beige underwear sets, including essential t-shirt and strapless push-up bras (169LE), 'invisible' thongs (69LE), g-strings, briefs and body-shaping. Although a decent range of sizes were available, as with many underwear shops, some sizes may be difficult to find.
There is also a nicely-sized range of beach and summer-wear, with jolly bikinis and floaty beach dresses, kimonos (299LE) and sandals. We particularly liked an aztec print bikini with deep purple accents and turquoise beading; the top was retailing at 199LE, whilst the bottoms were 149LE.
A small but adequate sportswear range is available, boasting basics such as sports bras in black and bright pink, lycra trousers (259LE-299LE), tank tops (199LE) and lightweight jumpers (349LE). Using black and charcoal as the base colours for the tops and trousers, the majority of the pieces also fashioned bright, neon trimmings.
We also found packs of colourful socks (69LE), pop-socks especially for pumps (49LE) and box sets of briefs.
Oysho brings a sophisticated range of women's loungewear, sportswear and beachwear to Cairo, complete with quality, tasteful and practical underwear at reasonable prices, making it a one-stop shop for those wardrobe essentials.