Razzmatazz Interiors: Chic, Artistic Boutique in Maadi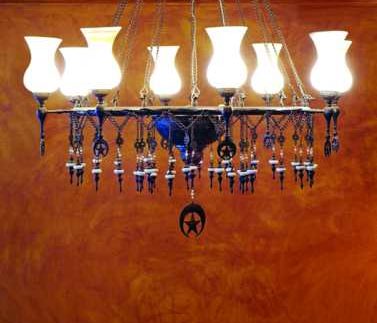 For decades, it was difficult for home owners
and design enthusiasts to find unique or modern pieces of furniture in Cairo.
Most shops only offered the traditional (and often garishly extravagant) Louis
XV style that we now associate with the salons of our grandmothers. Nowadays, many
furniture accessory shops have successfully fused contemporary design with
cultural heritage. Located in the suburban district of Maadi, Razzmatazz is one
shop that has managed to do just that.
The shop occupies the first floor of a
residential building; so you have to know that it is there to find it. Inside, two whole floors are dedicated to a
creative showroom displaying a wide range of home goods and furnishings. What
makes Razzmatazz unique is that it also showcases art by local talent, and so
browsing through the shop feels like visiting an exhibit as well. If you come
once every few weeks, you are always sure to stumble upon something new.
The more interesting pieces on display by far
are those that have used traditional Arab craftsmanship and merged these
concepts to create truly unique pieces. Often, modern furniture has the
negative reputation of being cold and overly simplistic; but Razzmatazz helps
you sprinkle your home with a cultural touch. The display on the bottom floor
shows just this, with a plain beige L-shaped couch (6800LE) flanked by an
Ottoman imaginatively upholstered with a traditionally woven carpet. Intricate oriental chandeliers
are also available in an array of sizes and colours throughout Razzmatazz as
are smaller, sleeker modern table lamps.
Other interesting pieces available are
decorative candles (100LE to 200LE) embedded with thin tin plates carefully
chiselled with Arabic calligraphy, as well as framed pieces of authentic
Bedouin face veils– between 300LE to 700 LE, depending on size. Together with the ceramics on display in the
corner, these items make excellent house warming presents.
The juxtaposition between Western modern
fittings and classic Islamic design continues on the second floor, where you
can find additional furniture and mock-rooms. Despite the
obvious talent of the designers, the three rooms are quite unimaginative and
seem to be used more as storage rooms rather than authentic displays of actual
rooms.
Like all furniture shops, Razzmatazz offers
delivery to your home upon purchase of furniture. And since the factory is located on the
outskirts of Cairo, tweaks to your favourite piece of furniture is entirely
possible.
They also have a wedding registry as well as weekly promotions and
deals; so make sure to always check those out before making any big purchases.