Reشcle: Recycle, Revamp, Re-use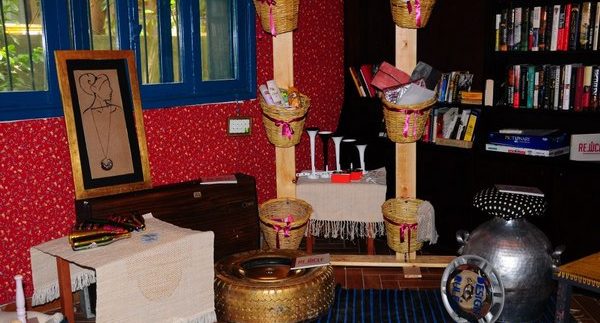 Producing furniture and accessories out of recycled objects has become a sensation all over the world. Young designers and creators of Reشcle, Yomna Seoudi and Maram El Shenawy, have brought this contemporary trend to Cairo, with an added twist. The name Reشcle is derived from both the English word 'recycle' and the Arabic word 'reshakel', meaning 'rearrange'- to reflect both the nature of their business and Cairo's multiculturalism. Reشcle does not simply melt down old products and make new ones out of recycled material but aims to use and transform obsolete, neglected items, change their non-existence, usual function and appearance in order to extend their life cycles.
Yomna and Maram met at the German University of Cairo whilst majoring in Product Design and the whole idea of Reشcle blossomed out of their final project together. Their work was first exhibited at GUC at the end of last semester and after receiving such positive feedback, and hundreds of enquiries, they decided to release their creations into the business world. Since then, they have worked around the clock and have so far showcased their work at Bikya and the Al Souq Bazaar which took place at the end of August. Their Facebook page reached almost 200 likes after just one month of going live. Evidently, although these budding entrepreneurs are still fairly new on the scene, their colourful, imaginative designs are quickly generating interest.
Reشcle guarantees original, handmade products; each one unique. The designing-duo gather their inspiration and ideas from visiting and buying from flea markets and through observing how local people use everyday items. For example, they created a fantastic set of chairs; one made from a reconditioned Tableya topped with a funky, patchwork cushion and they managed to revamp and modernise a discarded traditional Edra by attaching an on-trend, multi-coloured, round, padded seat to its top. Also amongst their inventive collection is a selection of unusual lighting, coffee tables, bags, home accessories and practical storage options. All their designs can be customised to your specific taste and needs, or duplicated, just as long as the items are available to them. Compared to some famous, international artists with similar ideas, their work is on sale at bargain prices – at the time of our visit they ranged from just 12LE for vibrant table decorations, up to 480LE for the larger, more prominent furniture.
The girls at Reشcle not only create eye-catching, one-off pieces, they also have a vision of helping to educate and inspire Cairenes about the importance of recycling through their projects.
The average family in Egypt throws out around 5kg of rubbish a month – not including furniture items – and it's no secret that there is a garbage problem on the streets of Cairo. Because of the over-crowding and the consumerist society, more people are buying more products and therefore, unsurprisingly, older things are more regularly discarded without a second thought. The presence of garbage is not only an eye-sore; the gases released from its decomposition also contributes to global warming – as if we need Egypt to get any hotter! With a little bit of creativity and effort from everyone, the amount of usable waste could decrease. Through modernising and renovating old and ignored items, not only would the amount of rubbish decrease, the demand for raw materials would go down too, and this in turn, would help to sustain the environment we all live in.Yomna and Maram have set up a service where they will personally collect any of your unwanted household items for free; not only would you be appealing to these talented girls' artistic flairs, but you would also be helping to sustain the environment by removing that one piece of rubbish from the dump. Your old item may also have new life breathed into it and end up as a beloved masterpiece in someone else's home.
So, the next time you think about spending thousands of pounds on that new, urban style coffee table or designer-esque chair set, first think about going green and up-cycling your existing furniture with the help of Yomna and Maram at Reشcle. They hope to be attending a bazaar on the El Saraya boat, Zamalek at the end of November, but if you can't wait until then you can check them out on
Facebook
or contact the girls to pick up a catalogue – made from recycled card, obviously.