Sami Amin: Cairo's Best in Leather Goods and Brass Designs
15a El Mansour Mohamed St.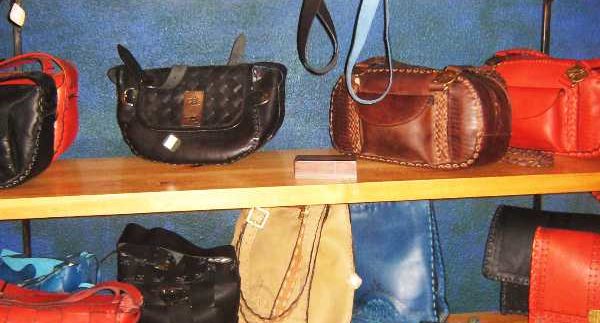 Rarely do stores in Cairo demonstrate such innovative design and
high-quality products as here. Sami Amin successfully draws inspiration from Egypt 's
many cultural roots including pharaonic, Bedouin and Arab influences. With
stores in Zamalek and Heliopolis, Sami Amin is a treasure chest overflowing
with finely crafted leather and brass goods.
Upon entering the Zamalek location, it's impossible to
miss the parallel walls of handmade leather bags that come in all shapes,
colours and sizes. Whether a man wants to carry around a simply designed
leather bag for his laptop or a woman is looking for a woven leather purse to throw
her sunglasses in, there is a bag for everyone at Sami Amin.
Other leather products include leather belts and wallets.
The belts come with large bronze buckles that definitely make a loud statement,
but they're great eye-catchers if the outfit is right. One such belt buckle is
shaped like a crescent moon with a star skilfully placed in it. The wallets
available also have a special craftiness quality. Some are made of braided leather
and others have oriental designs carved into them.
Towards the centre and back of the showroom, there are
other goodies including bronze key-chains, earrings, bracelets, rings and hair
barrettes. There are some beautiful pharaonic-style necklaces made up of thin
plates of flexible bronze that frame the neck perfectly.
Everything in Sami Amin has a special handmade
integrity and artistry about it. If bronze and leather aren't your thing,
you'll probably still find something you love like comfy village shoes made of
straw, or funky picture frames with colourful, geometric details.
Another reason why Sami Amin is great is that it
doesn't break the bank! Leather bags vary between 180LE for little clutch
purses to 600LE for larger bags with lots of space. For handmade leather
purses, it doesn't get much better than that. Wallets range between 65LE to115LE, and belts
start at 100LE.
Sami Amin is one of those stores that you'll discover
lots of things you never knew you always wanted. So shopping enthusiasts, dig
in!