Sera: Colourful Summer Dresses in Nasr City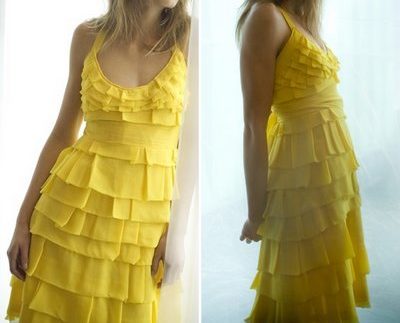 Shopping for clothes in Cairo is not an easy
affair; international brands are often stylish but overpriced and a season or
two behind, while local brands are often low in quality and outdated.
Located
on Nasr City's constantly crowded Abbas El Akkad Street, Sera is a two level
shop that carries plenty of fashionable items at quite high prices, however they
are worth every pound. For starters, you
can guarantee that you won't find them elsewhere.
The interior of the
shop is innovative and fun, with scribbles on the walls by shoppers saying
things like "I love Sera" and "Sera is the best". Although
we suspected that this was simply done by the staff for promotional purposes,
it added to the overall colourfulness of the shop.
The first floor is much smaller in size and it carries
a limited collection of footwear, handbags and scarves. It's also where the
cashier counter is located. A camel-coloured handbag with orange, yellow and
green flowers is priced at 200LE, while classic ballet flats are available in abundance
starting at 60LE.
The second level screams
summer colours, with heaps of colour-rich dresses around every corner. While Sera's
collection of dresses is mind-blowing, it is also bank-breaking. High prices
aside, they can easily qualify as the best in Cairo. The cute and colourful
dresses are available in various fabrics including cotton and chiffon. A striped yellow
and orange knee-length Lycra dress sells for 375LE. We were particularly
smitten with a sailor-style orange dress.
Sera's dresses come in
a variety of colours, styles and lengths where most of them are modest enough
for Cairo's streets as well as summer-friendly. Ankle-length floral dresses are hugely overpriced at 450LE; given their
mediocre quality.
Another item that stood out was a royal blue
dress with beige detailing (375LE) and a matching pair of pumps (80LE); a
striped chiffon dress in yellow, white, black and grey sells for 450LE.
Sera also has Cairo-friendly maxi skirts. The
skirts add the right combination of colours to an outfit without the risk of
looking clownish. A navy blue skirt with
white cherries sells for 250LE.
The shop also stocks other times including skinny
trousers starting at 250LE and basic blazers in vibrant colours starting at 150LE.
It also carries a small collection of
flowing Abayas.
So if you are out on a
shopping trip, scouting for cute colourful summer dresses, Sera should
definitely be your first stop.