Seventy Cotton: Starved for Soft Egyptian Cotton
CityStars, Omar Ibn El Khattab St.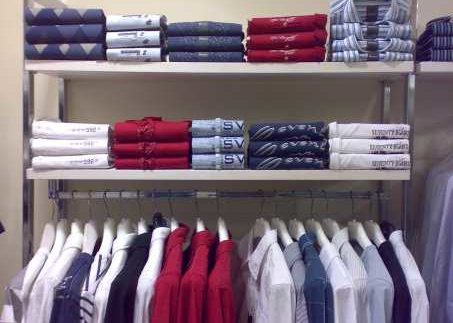 Egypt is famous for its
fine cotton; therefore, we have no reason to put up with low-grade
fabric t-shirts. Men's clothing shop Seventy
Cotton tries to convince us otherwise.
Located on the third floor of Phase One at Citystars, Seventy Cotton's
walls are plastered with photographs of male models having a glorious time and sailing
on a sunny afternoon; at the time of this review, a rather out-to-lunch staff were
having an equally glorious time playing 'guns' with empty clothing hangers.
A rack of jeans near the entrance of the shop may be enough to deter
some shoppers from exploring the rest of the merchandise. An inconsistent wash
and unattractive pockets didn't warrant the 279LE-price tag on a pair of jeans with
a hip-to-waist ratio that seemed more appropriately cut for women. Noticing
the low price point, we decided to wade further into the sea of stiff, faded t-shirts
and slightly dated jackets for a bargain.
Trying on a pair of seemingly well-made army green trousers proved
Seventy Cotton's clothes to be problematic. After requesting one size larger
than this average built reviewer's normal size, it was still difficult to
fasten the waist; though the trousers were more than spacious through the thigh
before tapering to a slim fit through the calf and ankle. The trousers also included
six or so extra inches of length bunching around the foot.
Not all of Seventy's clothing is made with too much fabric. A raspberry coloured pullover was one of the
softest items in the shop and looked quite attractive for 179LE until a closer
look revealed issues with the sleeves being far too short for a grown man.
However, Seventy Cotton seems to get the measurements right on their
many long-sleeve, collared cotton shirts. Also priced at 179LE, these shirts
come in a variety of striped patterns, and they are far softer than any of
Seventy Cotton's t-shirts or zip-up jackets.
However, the sloppy stitching is
most noticeable on these casual button-ups. Little care is given to matching up the pattern on pockets and seams, giving
many of the shop's items a haphazard appearance that is simply never in style.