Shoe Express: A Friend to Your Wallet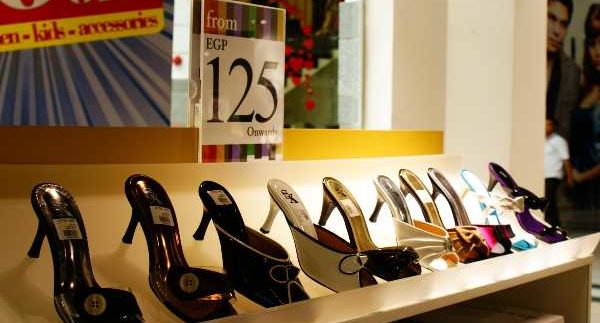 We're sure it's happened to you before in Cairo. You spot a cute pair of
shoes in a store window, ask about the price and then proceed to cry a little. 'Why
is everything so expensive?' you might ask yourself in frustration. Well dear
readers, fret not; we'd like to introduce you to a small store called Shoe
Express.
This store is located in Golf City Mall in Obour City, which, by the
way, is a saviour for anyone living as far out of central Cairo as in El Shorouk
and other suburbs. Groceries, restaurants, coffee shops and shopping are all a
short distance away, which means no more sitting in your car inhaling the sweet
scent of truck exhaust on Suez or Ismailia road.
Shoe Express opened last April and offers a selection of both casual and
semi-formal shoes for females, males and children with sizes ranging from 35 to
42, 39 to 46 and 17 to 36 respectively. It also has a decently sized section
for accessories and bags. Granted, you won't find anything reminiscent of
Balmain's to-die-for studded crystal sandals here, nor anything super trendy,
but what you willfind is a great deal on casual shoes and maybe some
respectable looking heels if you have a discerning eye.
On the other hand, consistency in the quality of products is not to be
found here. Shoddily-finished shoes sit next to others that are quite the bang
for your buck; leading us to believe that a little extra time spent browsing through
the racks may yield quite the gem for your money's worth.
Pretty much everything here is priced between 80LE and 350LE, with quite
a variety of designs, materials, styles and colours as well. Expect to pay about 175LE for heels, 100LE
for flats and 125LE for flip flops. Men can pay 269LE for a pair of Oxfords.
This is the perfect shop for people who don't want to break the bank for a pair
of shoes to use and abuse.