Shoe Room: Every Bargain Has its Catch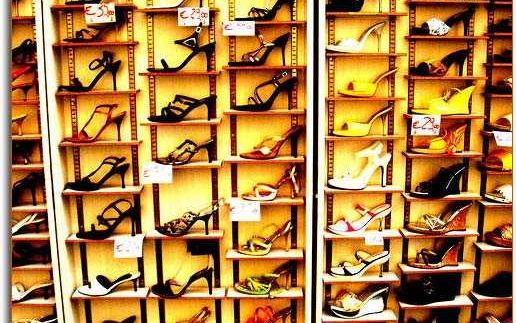 Cairo's notoriously rough streets make
Cairenes especially aware of the value of a stylish bargain shoe find, leading us on a hunt for practical footwear that will most likely not last longer than a
single season.
Shoe Room is a modest chain that brings
affordable footwear to women in Egypt
who like to keep up with perpetually changing trends. This is no designer boutique, but the fair
selection of ballet flats, sandals and heels should be easy to pair with
any smart, upmarket ensemble.
Shoe Room's Maadi branch takes up a small space
in the shadow of the Maadi Grand Mall. Set back from the street, the black and
white logo can be hard to spot from afar.
We were smitten with a pair of golden beige
faux-leather sandals bedazzled with chunky plastic jewels, perfect to pair with
a summery shift for a night out. Starting at around 150LE, Shoe Room's sandal
collection quickly becomes ever more attractive. A pair of strappy brown faux-leather
gladiators ran around 175LE, while plastic, beach-friendly flip flops start at
around 100LE.
We were a little less impressed by the
ballet flats, wedges and heels. One pair of flats (around 200LE) was made of fake
brushed suede with a twist detail on the toe. Once tried on, the fit was a
little stiff, and the attractive-looking twist made the flat bulky.
Open-toed sling-back flats were available
in black, brown and grey, while a model featuring silver metal grommets with a
ribbon bow was shown in black and brown. The heels are priced between 200LE and
400LE; from wedges to two-inch-high pumps, styles would fit comfortably into a
business-casual ensemble.
Shoe Room also carries bags. Like their
shoes, these bags are factory-crafted out of faux leather and cloth. A large
coffee-coloured bucket tote features some creative gather stitching and makes a
neutral daytime bag. Unfortunately, the darker bags' knock-off quality is very
detectable, although lighter tones lend themselves to a more authentic leather
appearance.
Brightly coloured beach bags hang on the
shelves, made of woven cloth in summer colours. For only a few hundred LE, the
bags are perfect for packing a towel, change of clothes and beach accessories
for a day by the sea.
All things considered, Shoe Room offers a fun
collection of footwear to supplement your closet for the season.