Soria Moustafa: Cheap Vintage Eyewear Revisited in Downtown Cairo
1, Muhamad Masloum St., Bab el Louk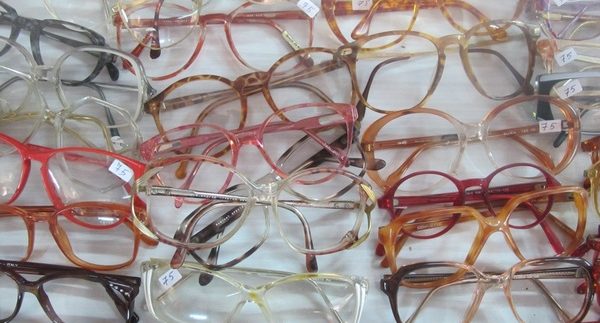 Vintage vendors in Cairo have yet to buckle
on the trend of 'what's old is gold'– and that's all right by us. Soria Moustafa
optical shop in Downtown keeps us wide-eyed with its stockpile of affordable
vintage eye wear that had us perusing for hours.
A hop from El Horreya Bar, the shop, according
to its cheery salesperson Iman Refaat, was the first ever optician's office to open in Cairo
when her grandparents chose this current location nearly
70 years ago to set up shop. An old photograph of her
grandfather sporting a pair of fifties blinders and a fedora hangs proudly on a
wall.
In 1968, Iman's mother Soria Moustafa took
the reins, stamped her moniker on it and reinvented the family business cashing
in on quality, imported frames from haute couture's founding fathers like Jacques
Fath, Morel Cottet and Guy Laroche.
Soria's collection was so extensive that
many of the original frames from their respective eras, several now
discontinued, are still on sale today. A pair of Daytona Cottets from the early
80's, that online would fetch hundreds of dollars, goes for 275LE; and a pair
of Guy Laroche, for only 150LE.
Style-wise, Soria Moustafa covers the
spectrum of spectacles from aviators to wayfarers to John Lennon's distinctive
rounds. Whether you're vying to look smart, eke out a hipster's dream or stand out
like a greasy drug lord, Soria Moustafa supplies.
Any model can be custom fixed with vanity
lenses, prescriptions, transition shades or good-old, classic tints. The near
and far sighted can drop in at Soria Moustafa with any old pair that can then
be gauged and recreated without an optometrist's referral – ready in just a
couple of hours.
During our visit, Iman provided us with
helpful and honest advice free of the unnecessary flattery aimed at our pockets.
After three hours donning and doffing pair after pair to the point where we
were invited behind the counter to pick and choose for ourselves, we were smitten, shop-bug
bitten and fell flat on a bargain for five pairs of Italian and French frames all
for 650LE, including a set of Lacoste teal marble rimmed wayfarers for 350LE.
We really couldn't resist.
With prices starting at 75LE for a reliable
piece and convenient, same-day service, Soria Moustafa remains dear to our
coveting eyes and tightly clinched money clips. So visit the menagerie of
glasses, but please, do take your time and try not to buy them out.