Sxy's: Hit-and-Miss Fashion at City Centre in Nasr City
City Center ,3 Makram Ebeid St. Shop # 25 C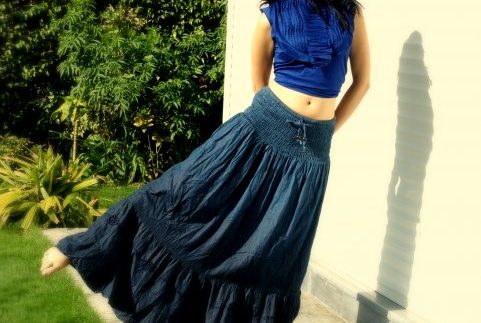 In Cairo, prices are escalating at
breakneck speed. From basic commodities to the most luxurious of
products, everything seems to cost at least twice as much as it used to. Sxy's is one
of those shops that always seem to offer mediocre-quality fashion at lower
prices than its counterparts. This
reviewer visited the shop's City Centre branch in Nasr City for a long overdue shopping trip.
The shop's is
vast in space; the racks are spaciously spread out, making for a comfortable
shopping experience. The staff are helpful when approached and try their best
to let you do your own thing with as little interruption as possible.
Sxy's
carries a pretty small collection of scarves in chiffon and cotton fabrics in simple
patterns starting at 40LE. Haphazardly placed through the shop, this reviewer
thought the shop's collection of scarves ought to be arranged together.
Maxi dresses
are on offer in floral and wild prints at 215LE. For 100LE, a small selection
of maxi dresses is also available. Quality-wise, these dresses are a bit poor. Sxy's
also stocks knee-length and ankle-length skirts, starting at 219 LE. A black
buttoned-up skirt caught this reviewer's attention, but had a rather faded
shade of colour.
You can also find linen tunics in striped and
chequered patterns, starting at 180LE. We were particularly fond of Sxy's eclectic
assortment of formal short and long-sleeved shirts, starting at 150 LE.
Evening-appropriate blazers with a silver stripe are also on offer for 150 LE.
Wardrobe
staples like skinny jeans are also available on sale. Down from 150LE, a pair
of jeans sells for 100 LE. Basic plain and striped pullovers are on sale for 80LE.

Winter items
including basic tight pullovers, knit short jackets (130 LE), knee-length coats
(549 LE), and knitted cardigans (160LE) make up most of the shop's stock. Puffa
jackets are also available in a variety of colours and sell for 100LE instead
of the pre-sales 180LE. Items like pink trench coats and magenta puffa jackets
suit tastes that favour unconventional colours.
A faux-leather
handbag of poor quality is overpriced at 235 LE. The leather looks cheap and fake,
and the bag's design is outdated and out of style. You can also find cotton
leggings for 90LE. Placed on a
stand beside the cashier counter, a limited collection of bracelets, belts and
wallets are on offer.
Shopping at
Sxy's is hit-and-miss. You might go home with several shopping bags at a time,
but there might also be many purchase-free visits to the shop.