Tee Pee: A Taste of Khan El Khalili in Maadi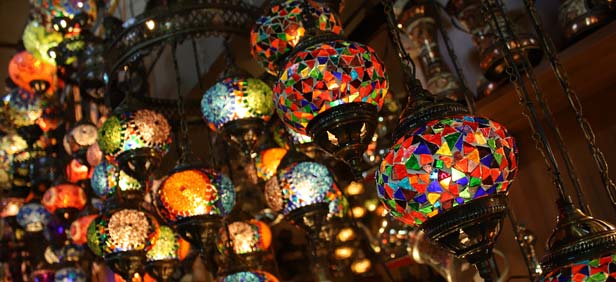 Though we continue to see international brands flood the Cairo shopping scene, local ventures are appearing at a similarly steady rate. Hidden away in one of Maadi's smaller roads, Tee Pee is really easy to miss. You'd never guess how big the shop is from the small glass front you have to take a few steps down to get to; but then you open the door and are greeted with a subtle, warm ambience and an insane number of home accessories.
Everything you could possibly think of in a traditional Egyptian bazaar, and then some, is on offer. The shop is so packed with accessories, it could be a little disorienting, or it could be awesome – depending on how much of a shopaholic you are. The lighting is dim and relaxing, the products are plentifuland the browsing experience is great.
It's not quite a bazaar, though; while it could be a great place to buy souvenirs or gifts for family or friends, it's a much better place to turn a dull room into something much more interesting with a vision in mind.
When you first walk in you'll find ornamental and jewellery boxes in different sizes, coasters with quirky Arabic quotes and all sorts of Pharaonic-inspired jewellery including necklaces, bracelets, earrings and more, all ranging between 10LE and 100LE.
There are all sorts of notebooks and pads, some leather-bound, others made with surprisingly soft recycled paper ranging around 110LE. Other miscellaneous items include small ornamental tablas, drums, maracas and shakers ranging from 60LE to 150LE.
You can also find elements of pop art and kitsch in the form of canvas posters and smaller wall-mount photos ranging between 25LE and 200LE. If you walk a little further on, you'll find different kinds of metal-work ceiling lamps, some intricately designed with stained glass hangings ranging from 150LE to 850LE.
Deeper into the shop, at the far end, there's a smaller section with canvas bags in different patch designs, scarves and pashminas, in solid colours and others with intricate patterns.
Other items include glass jugs, compartment trays and plates, candle holders, individual beads for jewellery making fans,
It's interesting to point out that possibly the best thing about Tee Pee is that the staff don't follow you around or get in your way, as per the typical Egyptian shopping experience. Instead, they let you browse freely, as there's a lot to see, but at the same time everything is conveniently labelled with a price tag so there's no need for interruptions.
The one problem with Tee Pee, however, is when you compare it to the bazaars and stores of Khan El Khalili, you'll find that the prices are a bit higher across all the products. If you're a fan of the authentic journey to the bustling heart of the city, this place may not be for you, but if you're willing to pay a little extra to save yourself the hassle of traffic and haggling, you should drop by.