The Loft Gallery: A Treasure Chest of Furniture and Accessories in Zamalek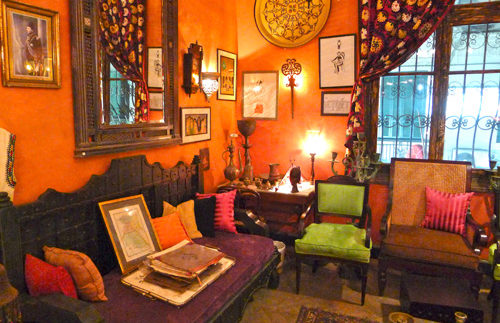 Walking down narrow Sayed El
Bakry Street and up the stairs of an old building, across from Sufi Bookstore, the
Loft Gallery is located. With high ceilings and a hearty wooden door, enter
into the cluttered world of mesmerising home accessories.
Opened in 2002 by Hani Gamil, an
Egyptian interior decorator, and Pierre, a French-Canadian enthusiast, the Loft
Gallery is alive and mysterious; it absorbs you, it entices you further into
its rooms – filled with countless décor items, art pieces, lighting fixtures
and home furniture.
It would take probably hours to
go through each and every furniture item available in the shop. Every corner
you turn there's more to be discovered. The overlapping, almost messy display
is somehow comforting; it feels like a home rather than a shop. The design
style has rustic Upper Egyptian and Turkish influences while also being
classic; it is raw yet elegant.
The collection is a mix of new
items and antiques. A pair of antique chairs of English design goes for about
5000LE, while a similar in style, modern Italian pair goes for about 4000LE.
They have a few 'mastabas' (traditional Egyptian bed and sofa) and the largest
one, supported by an impressive wooden structure, goes up to 9500LE – but this
is the grandest of them all. Luxurious and authentic Turkish carpets adorn most
of the floors and cost 5000LE and up. Apart from the extensive art pieces on the
walls, as well as lighting fixtures, elaborate window dressings and some
African inspired masks, our favourite wall accessory were the hand-painted
Turkish trays.
In an extensive variety, some of the
trays are antiques (2500LE range) and others are more current (1200LE-1500LE).
Differing in patterns and colours, the round trays are beautiful in the
simplest way, in gorgeous, textured colours and hand-painted with the strokes
almost visible. They are perfect additions to a house whether the interior is
modern, contemporary or purely classic.
To even begin to try to describe
every item that would catch your eye, or tempt you to splurge on, this review
would never finish. However, other notable items were for babies. An almost
one-of-a-kind cradle – there's only one other in the world at the Metropolitan
Museum of Art in New York City – was picked up at the Sakakini Pacha Museum
here in Egypt. One can almost hear the lullabies as the swinging
cradle made of exquisite Australian wood moves, though it is not for sale.
There are other babies' items that are though, a high-chair for eating converts
into a play-chair/moving car. There are also other cradles for sale but
honestly, none compare to the special one that isn't.
Though the prices are overall on
the higher side, it would not be put to waste. The items in the Loft Gallery
are original, authentic and of the best workmanship and so unlike most
overpriced shops around Cairo, this one is worth it.