The Tie Shop: Colourful Assortment of Scarves at Cairo's City Stars
Citystars, Omar Ibn El Khattab St.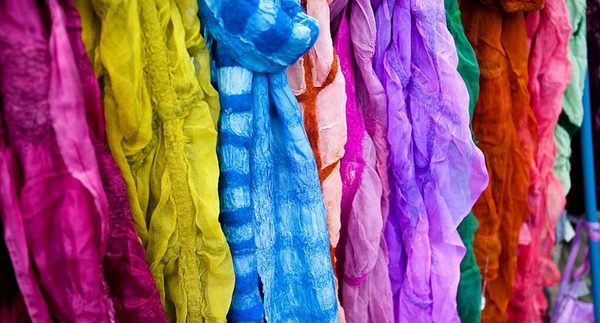 If you frequently purchase scarves in Cairo, you
probably understand that a scarf has the ability to make or break an outfit.
Located on the second floor of CityStars mall, The Tie Shop offers a colourful
assortment of scarves in a variety of fabrics.
The Tie Shop stocks chiffon scarves starting at
70LE; heading up to 200LE. The fabric of these scarves is light and so they are
quite sheer, but the diversity of colours available makes it possible to
find whatever shade you might be looking for.
A chiffon gray scarf adorned with tiny pastel
pink flowers caught our full attention; it was simple, pretty and
down-to-earth. Cotton scarves in striped and chequered patterns are also available
for 45LE.
Since black and white scarves are wardrobe
staples, The Tie Shop stocks a broad selection of such colours in a diverse
selection of fabrics. Scarves also come in daring, subdued, polka-dotted and
floral patterns. There are separate stands for leopard-print scarves.
A small section of the shop carries shawls starting
at 200LE. A Burberry monogram shawl will set you back a good 400LE. Since we highly
doubt they are an original design, we found that 400LE was a bit too much for a
fake. A golden silk shawl we came across felt rough to the touch; you can also find colourful knit shawls
starting at 95LE.
The Tie Shop also has a decent selection of
accessories, clutches and sunglasses. A brown satin clutch with faux gems is
overpriced at 350LE; sunglasses start at 120LE. Another section of the shop
carries neckties in all the colours that you could possibly think of and cost
80LE per tie. You can also find pins, hair bands and key chains in all sorts of
colours and shapes. The shop's accessories section carries earrings, necklaces,
rings and bracelets. Most earrings are priced at 35LE. However this section was
the least appealing and very few items managed to grab our attention.
The Tie Shop also stocks hair bonnets, body
tight undershirts (70LE) and separately-sold cotton sleeves. Square scarves with
dangling tassles are also available in abundance.
Although The Tie Shop's slogan reads 'The Best
Scarves in Egypt', we highly doubt that. The shop does stock a lot of colourful
scarves, but quality-wise, they can hardly be called the best.