Theodor's: Antique Lover's Paradise Opens in Maadi
12 Emaraat El-Shaheed Buildings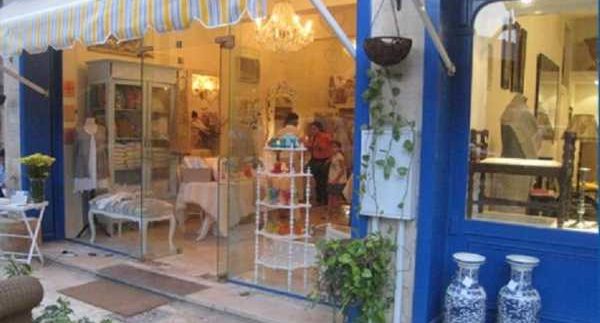 Recently opened antique boutique Theodor's embodies the cosiness of a
country cottage antique shoppe, the rich design culture of Egypt, and tasteful
flare for contemporary designs and textiles.
The shop is split into two compartments: one part houses Deana Shaaban's
draped evening gowns as well as Turkish household linens, white-washed ottomans,
high-backed chairs, portraiture, women's jewellery and accessories. The other
part is devoted to furniture and larger statement furnishing to decorate your
home or office with.
Interior decorating enthusiasts should be prepared to surrender at least a
few hours to peruse the extensive collection on display. As with antiques, each
piece carries a story, and Theodor's owner and the friendly shop attendant are
more than willing to share the history of each and every item.
Theodor's edge is in its passion for classic pieces with a modern touch;
take the two gorgeous French high-backed antique chairs with floral and lattice
backing near the shop entrance; the chairs (1200LE each) are fitted with
fuchsia velvet from Vienna for seat cushions; creating a hybrid of regional
styles, historical periods and aesthetics.
A white ottoman sits near the window; with robin's egg-blue patterned
upholstery lending a modern-Victorian accent, while several oversized and
hanging crystalline chandeliers cast an enchanting glow over the shop's
collection. Besides the light fixtures and one large desk in the shop centre,
nearly every item that you see is for sale. Decorative leather cushions from
Morocco in mustard yellow sell for a few hundred LE, offset by puckered cloth
cushions of local Egyptian textiles. The artwork of British artist Emma James
also graces the shelves, with mixed styles of metallic-painted plaques to hang
on the wall next to bold op-art patterns that evoke a modern Eastern style.
Prices vary and are available upon request.
The shop also features a rack of linen children's frocks and sandals
decorated with colourful glass bead fringes by Air Marin at 500LE a pair. Batik
hobo bags by Mona Lisa sell for around 850LE, while rejuvenating lavender
sachets are available for 25LE.
A three-piece recliner set features more of Theodor's trademark re-upholstery:
a black wooden frame contrasts with a greyscale pattern cloth, giving an art
deco accent to the modern home. The crowning glory of the furniture wing is a
set of low armchairs (6500LE). Reportedly rescued from the Heliopolis mansion
of Egyptian royalty, Theodor's curator fell in love with the set; but the
original cloth was too weathered to salvage. A visit to Istanbul yielded a rich
red and gold silk covering, and the original set was re-mastered with a
handsome edge. The wood remains chipped and weathered at some parts, maintaining
its sense of antique charm, while the feathers and hand-stitched cushions are
the original.
Theodor's brings us a collection with enough original personality and
functional charm to keep us intrigued and ready for what will come next.