Tiffany Lighting: Pricey Lighting in Dokki
118, Mohy El Din Abou El Ezz St.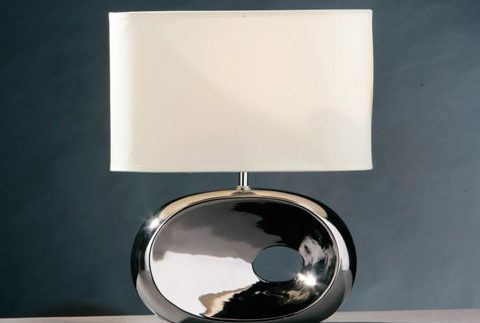 When you think of somewhere to go shopping, any kind of
shopping, the first place you're likely to lean towards is Zamalek – simply
because it's the most obvious. However, other districts offer pretty much the
same thing and usually at lower prices – or so we thought. Heading into Tiffany
Lighting on Mohy El Din Abou El Ezz in Dokki, we hoped we'd discovered one of
those great budget spots – we were wrong.
What initially caught our eye were the countless table lamps
seen through the window. In a variety of sizes, colours and patterns, the
fixtures tempted us to go inside and see what else this shop has to offer.
More spread out than it would seem from the outside, Tiffany
is stacked with all sorts of lighting. Apart from the discovery that they carry
some rather extravagant designs, they also carry hefty price tags. A simple
earthy brown-based lamp goes for 1650LE, while one with a white-washed effect
goes for 980LE. At the lower price of 330LE you could grab yourself a smaller
lamp with a stripy pattern, but the difference in price is obvious.
A pretty tie-dye like table lamp (850LE) caught our eye, as
did one with a mismatched, patched base covered in part with crystal pieces and
the other with contrasting bronze ones (820LE). If you prefer more of a classic
approach to your lighting, Tiffany has enough designs that you're sure to find
what you're looking for, like one with a flower pattern on it (1750LE).
They also have quite a selection of classic chandeliers; in
fact, they almost cover the entire ceiling. A typical crystal one costs about
8000LE upwards and while this style is a little outdated, there were some more
demure ones that could be put to good use.
Our favourite of the ceiling lamps are by far a collection
that feels like mix of contemporary and classic styles. While they come off as
a chandelier, essentially made of glass, they have a far
more geometric quality to them and mostly come with a dusty copper structure.
Their price tag ranged about 2000LE.
You can also find a collection of summer house and outdoor
lighting as well. Wall fixtures made of what is meant to look like rock light
up quite nicely and cost around 200LE-300LE. For a little higher at
600LE-700LE you can find lighting for gardens specifically, where the fixture
is placed in the ground.
Other than these options, Tiffany also carries a selection
of bathroom sconces (300LE-400LE), wall fixtures for reading (590LE) and some
very nice lantern-like pieces that hang or stand that range the higher prices
of 1650LE up to 2200LE.
While Tiffany offers quite a variety of lighting options,
most of the tags carry pretty high prices and the fact that they are 'Made in
Hong Kong' doesn't help make sense of it. Even though we were looking forward
to discovering an underground shop that won't empty out our wallets,
we still recommend it to those who can afford to spend that on their ambience.