Timpu: Quality Vinyl Wallpaper & Prints in Heliopolis
132, El Merghany St., 2nd Floor, Apt 21..

0224158995,01223444311,01140033478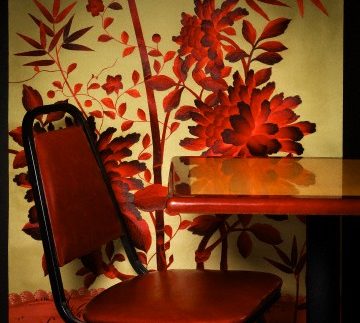 Being
vinyl print enthusiasts ourselves, we've previously gone through the hassle of ordering
prints online and installing them, section by section, never quite sure how they
would turn out. So when we heard about Timpu, we were excited to find that
vinyl prints are now available locally in Cairo with no extra hassle or cost.
Situated
just above Alef Bookstore on El Merghany Street in Heliopolis, Timpu is truly a
one-of-a kind shop in Cairo, with vinyl prints peeking out of their first floor
window and wall stickers guiding the way up to this niche outlet. According to
our knowledge, this is the only shop offering exclusive vinyl prints in Egypt.
Greeted
by a salesman, we were guided through the small shop's large display. Unaccustomed
to the educated customer, the salesman was a bit over attentive, but generally helpful.
The
catchy display is more about the concept than individual pieces; sporting entire
walls plastered with stickers of different themes, shapes, and sizes. At times,
it is difficult to appreciate the individual pieces because of their cluttered
display. Walking down the hallway, prints of Chinese dragons and seductive ladies peer
down on visitors. The selection includes everything from tribal motifs to sport
associated ones, and from calligraphy to child friendly ones.
Many of
their designs seem to be inspired by common tattoo ideas such as dragons,
geckos, flowers and tribal patterns. Other available themes are nature, sports
and music. While some of the designs are suitable for homes, others are more
appropriate for restaurants or studios. In spite of the wide range of designs, few
of them are very original.
Their selection
for children's rooms is fun and colourful, ranging from cheeky roadrunners to giraffes
to the more conservative Pooh variety. All prints are produced by order, and
can be done in any size and any colour.
We were
delighted to hear that they also custom-design and custom-print vinyl sheets.
Their portfolio, which they proudly boast in a presentation, includes a much
broader range of prints than that on display. It also helps to contextualize
the designs a bit.
The more
original collection includes Arabic calligraphy prints, which bring a touch of
class to the otherwise noisy display. We also liked their African prints that range
from silhouettes to instruments.
Another
interesting feature is the waterproof vinyl for bathrooms, shower stalls and
pools. The ease of application and removal makes them a nice way to bring a
little extra flair to these often-neglected spaces.
Prices start at 120LE
and up, depending on size and design; original designs usually cost a bit more.
Orders take one week to process and deliver; they offer delivery and
installation services.