Totti: Quality Evening Wear Options in Nasr City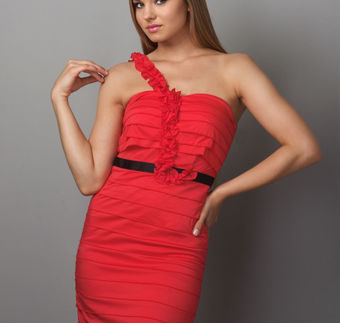 Formal wear, whether
day or evening ensembles, take up a lot of time and effort to shop for –
especially if you're on the hunt in one of the busiest shopping streets in
Cairo. While it's easy to overlook Totti on Abbas El Akkad Street – unless
you're carefully scanning below street level – the shop offers high-quality dresses and work
attire that would be unfortunate to miss.
The front of the shop
features a couple of smart casual blazers in bright colours; a green jacket
with polka dot lining with a button on its front (350LE) is displayed along
with different coloured ones in similar styles, creating a bouquet of summer
jackets. Yet, if you're looking for a serious all-formal look then the black
satin pantsuit (650LE) would be more appropriate. The satin material is soft
and silky but carries itself together well with movement.
Totti also stocks evening
dresses. Whether pencil shape or with twirly A-line skirts, they are all made
in Turkey and are of excellent quality. A one shoulder red mini-dress with
bright silver embroidering on the shoulder (550LE) particularly stands out, and
so does the classy cut of a knee-length beige dress that has a layer of sheer
black lace covering its length and a black satin bow on its waist (295LE).
What's great about
Totti is that you can get most dresses for well under the 600LE price range.
However, when it comes to casual wear the shop loses its soft summer quality
and reasonable prices. They have a collection of long casual shirts, yet their material
doesn't seem quite suited or comfortable for the summer. They are available in
cheerful colours though like hot pink, blue and orange.
The quality of casual
wear fortunately improves in the second half of the shop which is more
dedicated to everyday wear and jeans and even features a couple of casual
dresses like a cute stripped beige and navy blue cotton dress for 150LE. While
their waist-length T-shirts aren't that creative in their graphic designs, they
have a nice variety of skinny jeans to choose from (225LE). Unfortunately, they
don't have many styles and the size range is rather limited.
In the midst of the
shopping competition scene in Cairo, it's nice to stumble into a shop that you
can instantly click with. Totti offers excellent quality imported dresses for
great prices, and though their casual collection don't rise up to the same
level as their evening wear, it will probably be on your 'favourite shops' list
after a couple of visits.