Ulla Popken: Pricey, Plus-Sized Clothing for Egyptian Women
CityStars, Omar Ibn El Khattab St.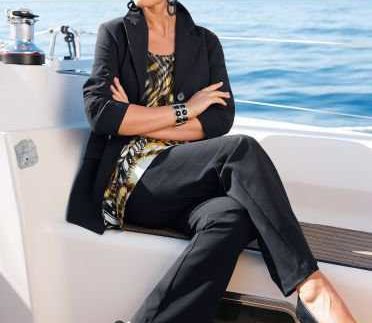 The average Egyptian plus-size woman may
have trouble finding well-cut and trendy clothes for reasonable prices in Cairo. Your options are
quite limited, with only a few shops catering to plus sizes: there's
M.M in Zamalek, Mix& Match in Mohandiseen and Maadi, and Ann Harvey in
Citystars' Phase 2. H&M and New Look also have small sections for plus-size
clothing that rarely keep up with the latest trends and have limited sizes.
However, if you're willing to fork out a
few thousand LE for a full outfit, then check Ulla Popken. Located on the third
floor of Citystars' Phase 2 next to Wagamama, this German brand of women's
clothing caters to European sizes 42 to 64, offering trendy clothes for the
office, evening, sports and leisure. The choice of colours and tailoring seems
to be catered towards the career woman in her mid-thirties to sixties- there's
something sedated and safe about the choice of patterns and shapes.
The brand's policy is to change its
collection every month, and at the time of this reviewer's visit, the shop was
full of block colours in chocolate brown, blue, red and various shades of
purple, with occasional bursts of patterns here and there.
Cardigans are in full force at the small,
T-shaped shop, ranging from the elegant alabaster-cream set of a long loose
cardigan and a long loose t-shirt (over 1000LE) to the purple, striped viscose cardigan (650LE), which would pair
perfectly with the store's dark blue stretch jeans (798LE). A relaxed woollen
jacket with bucket pockets in electric blue (1052LE) adds some funky colour to
an office-appropriate outfit; and it could also work well for a dinner date.
A
pair of straight-cut suit trousers in aubergine (800LE) are also a subdued yet
elegant choice of office wear, while a metallic aubergine, long-sleeved tunic
(1120LE) is dressy enough for a night out at the Opera. With winter still light
years away, the knee-length woollen black coat (2000LE) may be an unnecessary
investment right now, but its leopard-print lining and good cut make it very
tempting indeed.
In addition to the selection of shirts,
tunics and trousers, the shop has a limited selection of sports and leisurewear
(mainly velour-like tracksuits), underwear, a few swimsuits and bikinis.
Nightwear is also displayed, as are a few accessories adorning the clothes
hangers here and there.
While Ulla Popken definitely offers better
quality than its peers in a more comfortable shopping space, the prices can be
quite high when you compare them to the nearby shops at the mall. Furthermore,
the shop seems to be crammed with far too many shop assistants, who stood around
and tapped their feet impatiently as this reviewer browsed through the
racks.
This and the price may intimidate
some shoppers, but the shop has some excellent discounts during its seasonal sale; so be
sure to check it out for some elegant adult clothing.