Uterque: Lovely Leather at Citystars
City Stars Plaza, 2 Aly Rashad St. Star Capital 2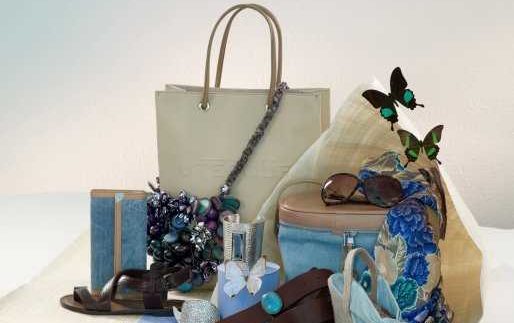 Spanish clothing empire Inditex is famous for such brands as Zara,
Massimo Dutti and Bershka, in addition to its highly accessorised chain
boutique, Uterque, which recently opened in Cairo's megamall Citystars. Latin for this and that, Uterque has a
little bit of everything.
The less-is-more window display shows nine items popping out of three
large, brown shopping bags in front of black slats. Uterque is Inditex's best-kept secret. Inside the tiny store, chic mannequins are dressed in smart ensembles,
complete with the perfect accessories. Throughout the shop, you will find
everything from women's clothing to jewellery, scarves and leather products.
Despite the amount and variety of items packed into this tiny shop, almost
everything is presented cleanly, and the collection is edited and cohesive.
Drawn towards a shelf near the shop's entrance by the soft spot
lighting gracefully highlighting the merchandise, we noticed an orange and tan
leather wallet for 550LE. Close by, a
light brown structured leather purse for 1200LE caught our attention.
Throughout the shop, belts, wallets and purses of varying shapes, sizes and
dyes prove Uterque's knack with quality leather at a fairly reasonable price
point for an upmarket label.
Targeting both the young professional and more mature female consumer beautifully,
Uterque's clothing is refined and feminine. A pair of modest seersucker shorts
was on display for 450LE, while soft cotton sweaters, tailored skirts, delicate
blouses, and chic shifts round out the clothing line. Uterque has a beautiful selection of silk
scarves in an array of colours and prints for around 600LE. A darling pair of steely blue suede and
leather flats (1200LE) reminded us nothing of Elvis and was perfect for the
upcoming season.
The jewellery of Uterque was a little off-putting as the quality did not
seem– unlike the store's other sections– to merit the rather high prices. The cocktail rings and beaded necklaces were not
displayed properly, which contributed to their appearance of lacklustre
quality. However, one piece that did
stand out was a pearlescent beaded necklace (450LE), set with a whimsical
giraffe for a great way to add some spice to business wear.