Villa Baboushka: Cairo Chic Boutique
31, Ismail Mohamed Street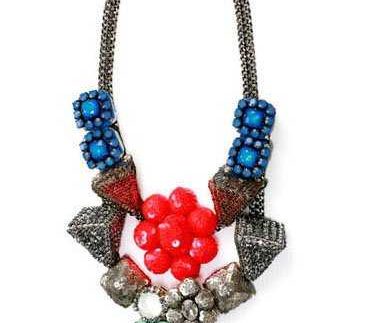 Don't be fooled by the
name, you won't find any Russian grandmothers living here. What you will find at Zamalek's trendy new fashion
boutique Villa Baboushka is a whole lot of high-street style mixed with quirky
designs.
If the massive fuchsia
doors aren't enough to indicate that you're entering an every-women's paradise;
perhaps the fact that every item you see in the store is for sale will spark
the pleasure centre of your purse! Along with the myriad of clothes and
accessories, furniture, including pieces by Nihal Zaki and artwork from France, Brazil
and Argentina
are on offer. A dramatically long opaque white chandelier (14970LE) imported
from Spain
captures the mood of Villa Baboushka perfectly: feminine, a bit quirky and
expensive.
Villa Baboushka stocks
designers from the well-known and long-coveted to the up-and-coming.You'll
find British labels such as Vivienne Westwood and Maggy London as well as
American names like Poleci, Mara Hoffman and Robert Rodriguez. A few local designers are on hand, including Baheya, while Lebanese labels Shorouk, Vanina and Rim Mikdashi's accessory
collections are on display.
The on-trend fashions
at Villa Baboushka are great for dressing ladies of any age for any
occasion. The twenty-something
fashionista can easily slip from daywear to night with one of Baheya's flirty
sundresses (1100LE), slimming Space jeans (1290LE) or a funky G-Lish t-shirt
with lace embellishment (1990LE). Mature
ladies will find style and grace in Maggy London's monotone jacquered sheaths
(1590LE) – perfect for a formal lunch – and Whatever Whatever's flowy black
dress (1750LE) for an evening out.
An entire room is
devoted to shimmery formal wear, which ranges from classy to killer.Think full-length Theia Couture gowns for
5490LE and a barely-there one-shoulder mini dress by Treuse for 2190LE.
Eye-catching accessories
are displayed around Villa Baboushka in cubbies and cases, including a black
and white snake skin clutch by Tango that is covered with beading (2390LE), and
a necklace (1190LE) decked out with vintage charms of ballerinas, ribbons and
lockets.
Villa Baboushka's
designs are sure to turn heads; but it's quite pricey, so watch out that you
don't go overboard.You could find
yourself all dressed up with no place to go.