Virgin Megastore: Music and Multimedia Now in Mall of Arabia
Gate 23, Mall of Arabia, Juhayna Sqaure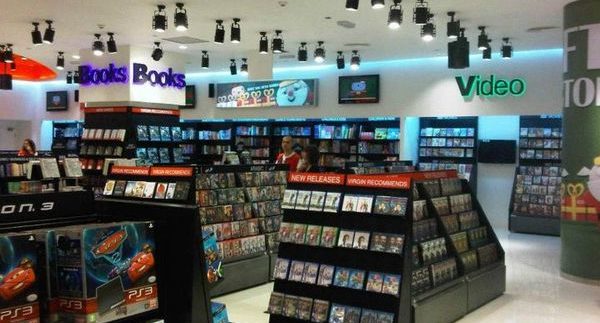 With illegal music and film downloads
becoming the cheaper and easier norm and SOPA breathing down the necks of the proprietors
of such services, the second branch of Virgin Megastore to open in Cairo has
arrived at an apt time. 6th of October City has been gifted a
spectacularly stocked entertainment paradise in Mall of Arabia.
The largest section of the shop is the
books section. Separated into Arabic and English, the latter outnumbers the former
tenfold. With all genres covered, from fiction and comic books to art and
self-help, the prices are identical to what you'd find in Diwan; for example, 85LE
to 110LE for a novel.
The shop also stocks a very respectable
collection of both Arabic and Western DVDs. In terms of new films, the Arabic
collection is crushingly dominated by the usual comic shames like El Limby and Bolbol Hayran, but we did spot copies of 678. All sell for 45LE each.
That's not a bad price when you consider
that some Western equivalents are almost four times as expensive. New titles
such as X-Men: First Class (175LE)
and Horrible Bosses (170LE) are
available, as well as classics such as Goodfellas
(160LE) and cult favourites like Little
Miss Sunshine (85LE). Single series TV box sets are also available, the
most notable being Friends (375LE)
and How I Met Your Mother (399LE).
The most interesting range of DVDs is a
collection featuring classic Egyptian cinema stars like Soad Hosni and Abdel
Halim Hafez. Although the cover photos are a little crude and the lime green
and bright red boxes are flimsy; for 45LE, they'd make an excellent present for
lovers of the golden era of Egyptian cinema.
Gamers will be pleased; 2399LE for a
Playstation 3 pack that contains one controller and one game isn't a bad deal.
On the other hand, new games retail for between 550LE and 599LE, which is very
expensive by any standard; you're likely to find the same games in Europe, the
US and the UAE for around 400LE. Xbox 360 and Nintendo Wii games are equally as
expensive.
However, there are a few titles that are
considerably cheaper. The Playstation Platinum range takes games that have sold
400,000 copies or more worldwide and re-releases them at budget prices. We
spotted a couple of games for 125LE.
There aren't very many CDs, but you'll
invariably find mainstream releases like Lady Gaga's Born This Way for 110LE, with some classics such as the Beatles' Revolver (110LE) and a few compilations
such as Now That's What I Call Music 80 (199LE). On the other hand, Arabic
albums are much cheaper; Amr Diab's Banadeek
Ta'aala costs 30LE.
It's difficult not to get sucked in by a
'megastore' as sleek and as comprehensively stocked with
electronic-entertainment as Virgin, but it's even more difficult to ignore the
inflated prices. One can argue that the shop stocks items that you'd struggle
to find elsewhere in Cairo; but expect to pay over the odds for them.