Zafir: Locally Designed Egyptian T-Shirts in Zamalek
11am - 11pm, Closed Sundays -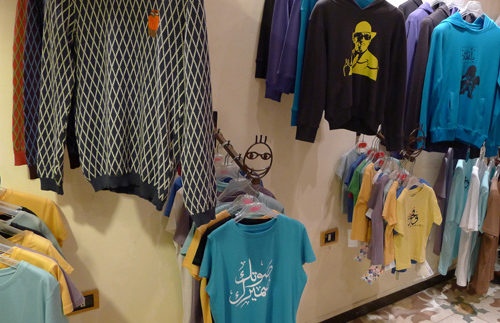 Part of the cluster of shops that are often
changing ownership on the corner of Taha Hussien Street and Marashly Street in
Zamalek, Zafir has held its own since 2006. A considerably small shop with
nothing more than a few racks and shelves, it sells t-shirts and hooded sweatshirts
with typically Egyptian symbols and phrases to Cairo's hippest crowds.
The idea behind Zafir is to promote localism
by enabling Egyptian talent and creativity. With 100 % original designs, anyone
is eligible to submit a design of their own to have printed on one of the
clothing items. The shop will buy this idea off you for either a single set
price or on a commission basis. The selling price varies where a more useable
design will rank higher than one the shop owner feels will not really appeal to
that many customers.
The two basic items found in Zafir are
t-shirts and sweatshirts, suitable for adults and children, male or female.
Most prints are a variety of Arabic sayings in bold colours and artsy
calligraphy or typical Egyptian symbols like a kitchen gas canister in bright
pink and logos of easily recognisable local brands. There were some interesting
mixed culture examples like Darth Vader with a speech bubble in Arabic.
The collection is fun and authentic but
nothing we haven't seen before. In our last review, the prices were criticised
for being too high for a simple t-shirt (130LE per item) but today they've
brought their prices down where a t-shirt is 70LE and a sweatshirt is 150LE.
The only different item they had were sweaters, available for a limited time,
that instead of being a single block colour were patterned with diamond shaped
checks and detailed with a small Egyptian symbol on the chest; these were on
sale and for 100LE.
The shop doesn't accept refunds but you are
able to exchange a bought item within 14 days of purchase. With uncomplicated
designs, standards styles and basic sizes it is unlikely that you will really need
to.
While we appreciate the idea behind Zafir,
being a platform for creativity and encouraging locals to bring out the
designer in them, there is nothing that particularly stands out in this shop. Their collection is quite specific and limited and while some designs are appealing, we feel that nothing very new is being done. With several other shops opening up over the past few years, offering similar products, Zafir may be falling behind.