Zara Home: Spanish Home Fashion Comes to Cairo at a Price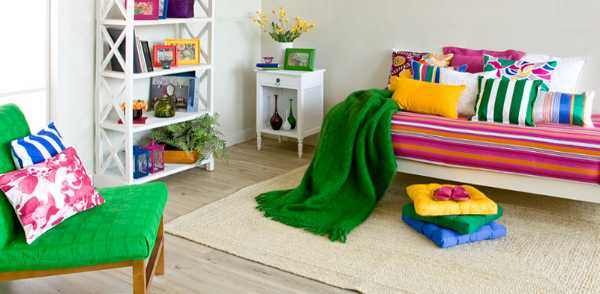 After pretty much dominating the Cairo shopping scene since its opening,
Spanish fashion giant Zara has now launched its home furnishing label, Zara
Home in CityStars' Phase One.
Open since last weekend, Zara Home's Cairo branch has all the home furnishings and accessories that
you may have seen at its European stores; with a slightly different price tag.
A large white bed filled with pillows and a colourful duvet at the entrance
tempts you try it out for a nap. Nearby, a table is stacked high with different
sizes of white and purple towels; pick them up: they're as soft and as
sweet-smelling as they look.
The whole shop is set in monochrome white and silver, with the
occasional burst of colour in a place mat, dishcloth or cushion. For something more flamboyant, try the smooth leopard blanket (1500LE), which would look perfect in front
of a roaring fire and Hugh Hefner. A soft cream woollen throw is the
perfect accessory on a couch corner in the winter, though perhaps a season too
late now.
Zara Home is famous for its quirky home accessories, from dog-head cork
screws to funky salt and pepper sets. The items in this store may not be as diverse
as the online catalogue; but perhaps that's because it's only the opening weekend. We like the silver lizard
paper weights, the white lamp, silver jewellery box, the funky door knobs and the small display of white laundry
baskets and organising boxes. The other side of the store has more colours,
with paisley silk throw cushions (around 300LE) and place mats (50LE each) in mustard, yellow
and forest green that would pair nicely with a dark wooden table.

A kid's corner is filled with stuffed toys,
cute plastic cutlery (around 50LE and upwards per plate), clothes and bed
linens in summery colours.
A few women's clothing items are also available, including luscious bathrobes
(250LE), white flat slippers and straw summer hats. Although the Zara Body
range of creams was missing at the time of this review; their signature
home candles were available in dark amber, orange blossom, fig and green herbs (a small candle
is for 129LE).
Known internationally to provide good fashion for mid-range prices, Zara
Home's prices translate to high-range in Egypt. It's a shame that a set of
pillowcases will sell for 300LE, especially when the price tag reads 20 Euros
and we're aware of the current exchange rate. Same goes for the duvet covers
that sell for 800LE (64 Euros) or the cushions for 300LE (20 Euros).
That being said, if you're desperate to furnish your new home in style
and don't mind the price tag; then go check it out.