Cairo to Bangkok: Your Guide to Thailand's Capital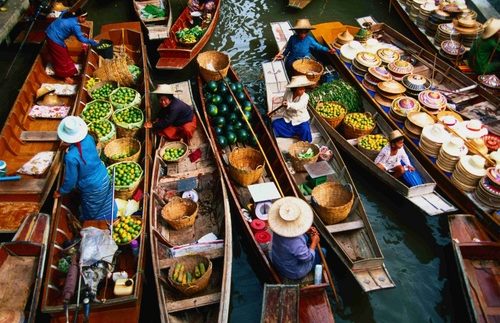 written by
Robert Mogielnicki
Ever been to Southeast Asia?
A quick layover stop in the Gulf is the only thing between you and a heaping
bowl of Pad Thai, great shopping, and beautiful beaches. With roundtrip ticket
prices to Bangkok costing between 3000LE and 3600LE, only one question remains: what
is stopping you?
Etihad Airways, the official
airline of the United Arab Emirates, offers roundtrip flights to Bangkok with a
stop in Abu Dhabi at 3000LE-3600LE; the seating is spacious and meals are satisfying.
Upon arriving at Bangkok International Airport, look for the Airport Link
(10LE) in order to avoid expensive taxi rides into the city's centre. We
would suggest staying at the Park Plaza Hotel (around 500LE per night) located by the
Asoka metro station. Although slightly more expensive than your average Thai
hotel, its excellent location and unbelievably comfortable bed make it
worthwhile.
In order to experience
Bangkok in its full glory, be sure to arrive for a lively weekend. The best way to start any Saturday or Sunday
would be with a trip to the Chatuchak Weekend Market
(9AM-6PM Sat & Sun), which is conveniently
located next to the Mo Chit metro station of the BTS Skytrain (10LE). The vendors
are friendly, prices are very reasonable, and bargaining is best performed with
a smile. The aroma of incense leads visitors to shops upon shops of old
converse shoes, retro t-shirts, and all other types of memorabilia. Be sure to
look out for family owned iced coffee shops; the intense heat, humidity, and
thirst inevitably add to the overall enjoyment of the iced coffee (6LE). It
was hands down the best iced coffee we'd ever tasted.
For lunch, head to the centre of the market to grab a
cheap meal from one of the many available vendors. Meat skewers and seafood
serve as delicious options, but the best value for your buck is certainly rice
or egg noodle soup with your choice of beef, chicken, or pork (10LE). A Thai
iced tea, despite its strange orange colour, does a good job of washing down
most spicy Thai dishes. If you have room for dessert, look for the fresh
coconut ice cream (6LE) that's served in a coconut shell which can be found
near the lunch vendors. With the addition of some crushed peanuts as toppings,
this cool, creamy dessert provides a momentary escape from the constant heat
and humidity.
Next, pay homage to Wat Pho (admission 12LE) – a
Buddhist temple that touts some of the oldest recorded instructions in the art
of Thai massage. Apparently, the beloved
Thai massage was on the brink of extinction before the state interceded and
mandated that massage schools be created with the goal of preserving Thailand's
most cherished tradition. This temple also contains the largest reclining
Buddha in the world, and it is made entirely of gold. Skip the overpriced
massage parlor at Wat Pho and instead head to Health Land.
Health land, located on Soi 19, is an extremely
popular and clean massage chain. The two hour Thai massage (85LE) is an
unforgettable experience. If crunched for time, purchase the one hour foot
massage (55LE), and you will feel like you are walking on clouds for the rest
of the day.
For dinner, make for Soi 55 in Upper Sukhmumvit for a
simple but exquisite chicken dinner (25LE) at Boon Tong Kiat Singapore
Hainanese Chicken Rice restaurant. Afterwards, walk up the street to the House
of Beers, known locally as HOBS, to enjoy premium Belgium beers amongst a
young, hip crowd of Thais. The drinks are somewhat expensive (36LE-55LE) but
the presentation is excellent. Be sure to order Belgium style fries (25LE) with
sides of mayonnaise, pesto, garlic, and ketchup.
Those looking for some late night entertainment can
head to a night market or Soi Cowboy. The Patpong Night Market (Soi 1 & 2)
stays open until 1AM and offers cheap watches and clothing. Soi Cowboy, known
as the red light district of Bangkok, is filled with bars, western travellers,
and various forms of late night entertainment.
Another weekend option is a trip to a floating market.
The Damnoen Saduak Market (7AM-4PM Sat & Sun) sells souvenirs and touristy
gifts; however, it does not possess an authentic floating market feel.
Operating during the same hours but located west of Bangkok, the Taling Chan Market
serves as both a floating restaurant and produce market. Enjoy your seafood and
noodles while floating on a canoe and take some local produce home for a late
night snack.
After spending the weekend
in Bangkok, you deserve to relax beside the crystal clear waters of the Indian
Ocean. We suggest heading south to sip coconut shakes on the popular island of
Phuket. With Orient Thai Airlines offering roundtrip domestic flights from
Bangkok for around 600LE, the same question still remains: what is stopping you?