A Perfect Getaway: Try to Catch Them Cheating
Steve Zahn, Timothy Olyphant, Milla Jovovich, Chris Hemsworth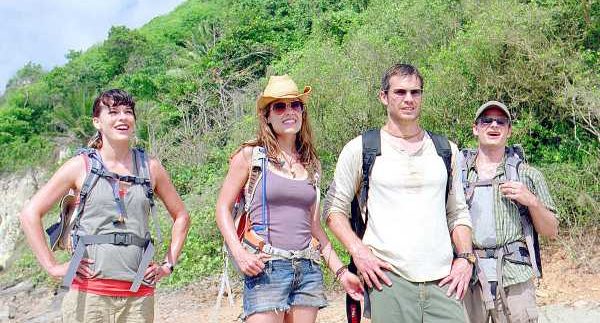 During their
honeymoon on a gorgeous Hawaii Island , newlyweds
Cliff (Zahn) and Cydney (Jovovich) encounter over-excited vacationing couple
Nick (Olyphant) and Gina (Sanchez). Although Cliff works as a screenwriter,
it's Nick who seems to know the most about film plot conventions, especially
thrillers and mysteries. He emphasizes the importance of misleading and toying
with expectations, and that's A Perfect
Getaway's thesis in a nutshell: a
cheap thriller that has nothing on its mind other than to give you a satisfying
90 minutes of second guessing the real masterminds behind the crime.
As it turns
out, the tropical islands of Hawaii
would've been the ideal honeymoon destination if it weren't for a series of murders
targeting cute couples much like Cliff and Cydney. After the pair wander
off-track on a hike and subsequently lose contact with the outside world, the
plot swiftly darkens. Enter more couples, each more suspicious than the next:
the hostile duo Cleo and Kale, and Nick and Gina, who soon start to show
troubling signs of intrusiveness.
Much of the enjoyment of A Perfect Getaway depends on your expectations, and it
goes without saying that the less you know, the more you're going to get out of
it. Writer-director David Twohy spent the better part of the 90s writing action
thrillers like The Fugitive and G.I. Jane, and in A Perfect Getaway, he takes all these recognizable plot devices and
uses them to craft a formulaic thriller.
Jovovich,
who showed some agility in the action Resident
Evil films, delivers a flat normal-girl role. However, the rest of the cast
turns out some appropriately zany performances, especially Zahn, who plays
against his usual grounded persona. Olyphant again injects another thriller
with his particular brand of tough-guy allure. In a genre usually populated by
dreamy teenagers, the adult cast is one the film's biggest draws.
While it embodies
the longevity of a classic, A Perfect
Getaway is a solid thriller. It may surprise viewers with its engaging
story and pace, something quite rarely seen these days. You may even succumb to
a second viewing to fill in all the missing pieces. And even if you didn't buy
into the end, you'll sure have a fun time getting to it.