A Prophet: Dreams of Power in Prison
Tahar Rahim, Niels Arestrup, Adel Bencherif, Gilles Cohen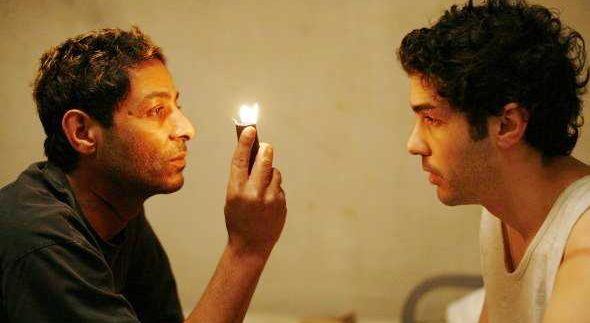 A prison
film, a gritty gangster drama, and a racially charged case study, A Prophet is most likely one of the
finer crime films you'll ever see. It is above all the hyper realistic and underplayed
representation of crime – the film rejects Scarface's
over-stylized and cartoonish take on gangsters – that makes A Prophet an interesting and compelling watch.
A Prophet's Malik (Rahim) is the polar opposite
of Scarface's Tony Montana. Both
possess a draw, but wherein Montana ends up being a mythical figure of menace,
Malik's rise to power is filled with self doubt, conflict, and a constantly looming sense of
danger.
Nineteen-year-old
Malik ends up serving a six year sentence in prison for assaulting a law
enforcer. Not much is known by those around him about the nature of his crime or
his history; the character is portrayed as a near blank sheet, and the Corsican
mafioso César (Arestrup) takes note of his presence immediately. Malik ends up
in the heavily Arab-populated cellblock of the prison, so when César needs to
get rid of a witness locked in that very same cellblock, he picks Malik for the job – giving him no
other choice but to either kill the man or face death himself. Malik
reluctantly complies, and consequentially is initiated into the Corsican mafia,
but only as a muscle man; being an Arab won't get you far up in the ranks in this
ethnically ruled gang structure.
The film is
episodic, constantly introducing new characters and unfolding new side plots.
Sometimes it's gritty, sometimes it's poetic, and its refusal to oversimplify
makes for a challenging but rewarding watch.
Malik struggles
as he is neither accepted by his fellow Arab brothers (who sometimes are referred
to as Muslims), nor sees opportunity to rise above his gang-sanctioned racial status. Identity crisis and racial tension are alluded to from time to time,
yet never spelled out via conveniently allegoric scenes.
Algerian
French actor Tahar Rahim showcases huge virility and range in the role of Malik.
He emanates a natural and captivating screen presence that draws you in through
seamless transition, while understated emotion grounds the performance. Equally
engaging is Niels Arestrup with his elderly wisdom and display of excessive
pride.
A Prophet is one hell of a ride, but it
stands out mostly due to its unique treatment of the crime film genre. There are no Godfather theatrics, no Goodfellas sensationalism. And although
the film's under-stylized aesthetics heightens the reality, A Prophet can get mystical and enigmatic
at times – although the reasons behind the metaphorical title choice is not quite clear. Viewers who want an insatiable gangster with an endless apatite for
destruction might be let down. However, those who appreciate a dense case study
of power play and rough social dynamics are going to revel in the two-and-a-half
hour journey, and may even ask for more.