Alvin and the Chipmunks:The Squeakquel: Chipmunks At It Again
Jason Lee, Zachary Levi, David Cross, and Wendie Malick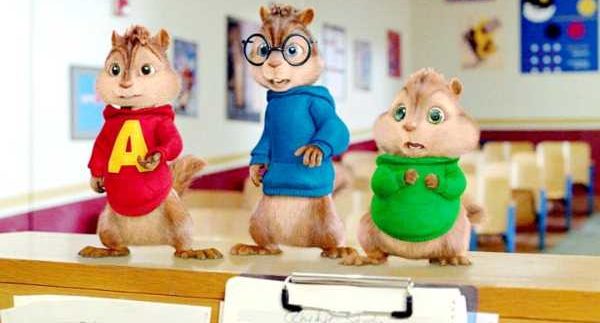 If your idea of a good film is to watch computer
animated squirrels with irritating, high-pitched voices running amok and creating
predictable havoc, then this film is for you. However, a younger, pre-pubescent
audience may be better suited for this comedy.
The sequel to the 2007 comedy Alvin and the Chipmunks sees the return of the supposedly cute
chipmunks: Alvin, Simon, and Theodore are
back in school and vying for a chance to play in the Battle of the Bands nationwide competition. They
convince their school principal to let them participate in the competition in
order to use the prize money to save the school's struggling music
program.
The little ones are confident they will win, until they
meet their competition: three little female chipmunks: Brittany, Eleanor and
Jeanette. The chipmunkettes are ready to duke it out, and Alvin, Simon and
Theodore had better learn quickly that they need to bring the A-game to win.
It's hard to deny the popular success of these three
little characters. Kids love them, parents can enjoy them and it is an
all-around family film. Unfortunately for those out there without children, the
second instalment doesn't quite get to the quality of entertainment that it
could, partly because it isn't geared toward a broad enough audience.
This is neither Shrek
nor Toy Story, but if you are a
parent looking for a nice little escape where your children will laugh and have
a fun time, this is the film to rent.
If you're not a parent, you might want to shy away
from the film; it moves slowly, the music numbers are more of the same (except
for the butchered 'Single Ladies'- Beyoncé will never be the same again) and the
sequel is, in many ways, too much like the original.