Best Worst Movie: Reconciling With an Embarrassing Legacy
George Hardy

Jason Steadman

...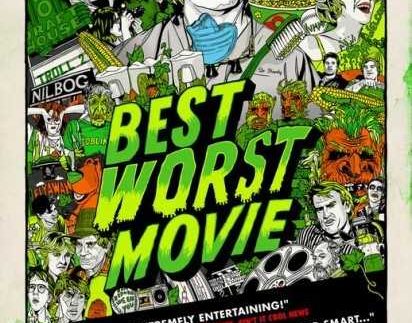 Most of us grow out of our adolescent fantasies by the time reality
comes knocking on the door. As dreams are abandoned and expectations
recalibrated, evidence of their existence leaves a sizable footprint
behind. A video of your school play, photos of you with your band in a leather
jackets during that metal phase, or your talent show audition tape; all of
these serve as a constant reminder of a time where the sky was the only limit.
It's easy for us to put all this behind us and move on, but in the case of
the aspiring actors in 1989's Troll 2, escaping
the past proved to be much more daunting; so they were left with no choice but
to embrace their infamous past.
Troll 2 was a low-budget
horror film shot in Utah,
with an Italian production crew that couldn't communicate in spoken English, featuring
a roster of raw, amateur actors. The film is hardly unusual for a low-end
horror flick. Unlike most of these films, Troll 2's failure was more catastrophic and grand. It was the
perfect storm of bad acting, horrible dialogue, bizarreness and poor filmmaking;
all of which is executed in complete earnestness and without a single hint of
irony.
The film's peculiar appeal cultivated a devoted following, and as
appreciation for its epic cinematic failure started to catch on, Troll 2 was screened at midnight shows
alongside other cult classics such as The
Rocky Horror Picture Show. This newly found cachet is what inspired Troll 2's child star and lead Michael
Stephenson to revisit his legacy and track down the rest of the film's cast to see
where life has taken them almost two decades after Troll 2's release.
The documentary starts with the notorious legacy of Troll 2, to give context to those unfamiliar with the accidental
classic. Best Worst Movie then shifts
its focus to the lives of the actors and how each of them came to reconcile
with the fact that he took part in one of modern cinema's greatest
embarrassments.
Now a middle-aged dentist back in his hometown, George Hardy chose to
embrace the film's legacy with humility and a sense of humour; unlike Italian
director Drake Floyd, who appears to be in total denial. Floyd seems the most
tormented by the irony of getting the recognition that he had long yearned for,
but now for all the wrong reasons.
Best Worst Movie's strength as a
documentary is that it knows where the heart of the matter is. Instead of
sneering at the subjects' delusion, it gives the viewer a chance to put himself
in the actors' shoes.
All of us have ambitions and consequently deal with failure; but we take
solace in telling ourselves that it's about the journey; not the destination. Best Worst Movie offers one of the strongest
and funniest arguments for that sentiment.