Boardwalk Empire: Hot, New TV Series
Kelly Macdonald

Michael Pitt

...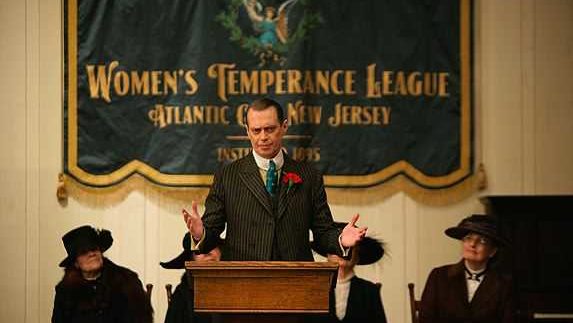 The new HBO TV show Boardwalk
Empire comes with a prestigious pedigree. Its creator Terence Winter was a
prolific writer for the gangster classic The
Sopranos. Martin Scorsese produced the TV series with full control over the
show's look and tone. He also handpicked the cast and directed the bombastic
pilot episode. Add character actor Steve Buscemi to the mix; and you have a perfect
formula for excellence.
The TV series is set in Atlantic
City, New Jersey
during the roaring twenties, just as prohibition laws are about to take effect.
Nucky Thompson (Buscemi) is a leading political figure that also runs the seedy
underbelly of the city. As prohibition laws are implemented, he takes advantage
of his strategic proximity to Canada
and starts illegally importing booze to nearby areas in order to prevent them from
running dry.
Nucky is cut from the same anti-hero cloth as Tony Soprano; his character
operates under an umbrella of moral ambiguity, but he also adheres to a strict
code of honour. Nucky's demeanour may not be as theatrical as that of Soprano's–
not to say that he's not equally compelling– but his appeal is rooted in rich
complexity rather than charisma.
As the show moves forward, the plot is unveiled to reveala love story at its centre. At
one end sits Nucky, whose one and only weapon is his composure; and at the
other is Margaret Schroeder (Macdonald), a town resident with a deadbeat
husband and two children. The two secretly yearn for each other in ways that they
can't understand, compelling them to commit actions that compromise their lives.
Boardwalk Empire hails from a long
history of crowd-pleasing mobster drama. The only criticism is that it's giving
people exactly what they want; it's too tightly constructed for its own good. However,
dwelling on Boardwalk's lack of
ingenuity would be missing out on everything else that the show has to offer.
Boardwalk Empire doesn't break any
new ground but it perfects the art form. Characters are all well-developed;
unveiling a new layer with each episode. With every instalment, there is an
engaging drama at the core; both on a dramatic and an emotional level.
Given the nature of the TV format, Boardwalk
Empire gets to explore its world with both the lushness of cinema, and the
reflective keenness of episodic television.
The Scorsese-directed pilot is a great gateway into the world of Nucky
and it does an exceptional job of keeping tabs on all the players, while giving
a good sense of who they are. With glimpses of familiar mobster faces such as
Al Capone as a low-level Chicago
gangster with unbridled ambition, characters come into focus.
The mobster world has always served as a ripe backdrop for human drama.
Think Godfather, The Man With No Name
trilogy, and the many films that Scorsese made. The attraction to these films is not the blood or
violence– of which there is plenty in Boardwalk– it's how these film project characters stripped from everything but their
strongest and most urgent desires.
The interplay of power and humanity becomes
paramount, and Boardwalk takes a
closer look at the foggy world where everything comes at an often ugly price.