Cairo Time: Fall in Love with the City All Over Again
Patricia Clarkson, Alexander Siddig, Elena Anaya, Amina Annabi, Tom McCamus, Mona Hala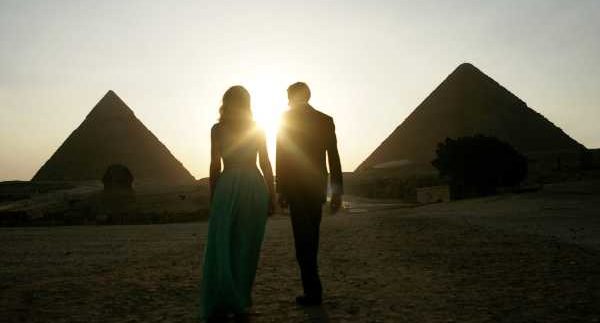 Every once in a while, we watch a film that we're too shy
to admit that we actually enjoyed. Cairo
Time is one of those films that you really don't want to like and the more
you resist; the more it grows on you.
Juliette (Clarkson) is the wife of a Canadian diplomat
stationed in Gaza.
She arrives in Cairo
Airport and is greeted by
an ex-colleague of her husband's called Tarek (Siddiq). When Juliette's husband
gets held up in Gaza, Tarek becomes Juliet's key to discovering the curious
metropolis of Cairo. Juliet becomes as enamoured with old-world Cairo traditions as with
her charming guide.
Aside from the basic plot and all of the kitschy
possibilities that may come from it, the film is lovely. From the Abdel Halim
music in the old-school Cairo cabs to gorgeous footage
of the famous El Shams ahwa, Cairo Time
gives its viewers a tour of Cairo
that will make Cairenes and long-time expats fall in love with the city all
over again. Juliette's pure fascination with things that most Cairenes take for
granted is endearing, like passing the Pyramids of Giza or driving over the Nile .
It was also great to see Cairo depicted relatively
accurately in the film and not overly-romanticised. Granted, there was some colour-tinting
of the Nile, but it wasn't the extremely false Hollywood version of Cairo. The traffic, noise
and the street harassment was all there; and Juliette nonetheless managed to fall in love
with the city.
The only major problem with the film is that the romance
between Juliette and Tarek is rather unconvincing. It's very unlikely that an
Egyptian man would make a move on an old friend's wife. Thankfully, however, at
least the romance subplot is carried out in a tasteful way.
Cairo Time is
not a breakthrough film, but if you want to catch some great shots of Cairo and reminisce on some of the old Cairo world that you might have forgotten, Cairo Time can deliver.