Chalet Girl: Charming But Predictable Snowboarding Rom-Com
Bill Nighy

Brooke Shields

...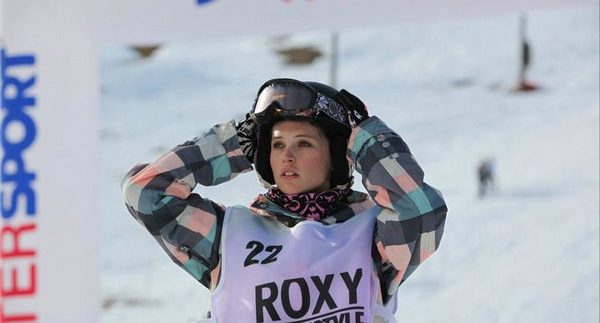 Chalet Girl is
essentially Blue Crush, right down to
the menial jobs, cute, rich guys giving sports lessons and having said lessons
turn into full blown flings. The main difference between them is that the
latter revolves around surfing while the former's sport of choice is snowboarding.
But you know what, this reviewer loves Blue
Crush so much that we wouldn't mind a million copycat versions if they were
all as cute as Chalet Girl.
Kim (Jones) has given up on her dream. Once a promising skateboarder,
her mother's death has made her lose all hope in the world and give up the
sport she loves. She now works at a fast food restaurant flipping burgers and
wiping counters in order to take care of her dad who is a mess and almost
completely dependent on her. Debt forces her to look for a job that actually
pays over minimum wage and she lands a four month gig as a chalet girl in
Austria. She basically gets to live at a beautiful chalet in the middle of a
ski resort and serve the obscenely wealthy family who own the chalet whenever
they choose to pop by for the weekend. While out on the slopes, she befriends a
snowboarder who shows her the ropes, deems her a natural and practically forces
her into entering a snowboarding competition, the winner of which gets $25,000.
Kim could have a shot at winning if only she could get past the grief she feels
due to her mother's death and which surfaces whenever she's about to attempt a
particularly difficult stunt.
Chalet Girl is
as predictable as it gets but if you're a fan of films where the main character
overcomes the odds and gets the guy to boot, then you'll love it anyway. Jones,
a very talented actress in her own right, is further helped by the sarcastic,
wisecracking dialogue that she's given. Kim's relationship with Georgie
(Egerton), her co-worker and superior at the chalet, is highly entertaining.
Egerton, who is grossly underrated, has great comic timing and plays the snooty
rich girl with a heart of gold really well. The cast, in general, is absolutely
stellar and while this is Jones' film through and through, the other cast
members do get at least one scene each in which to shine.
Being
a film set in a ski resort, there are plenty of shots of snow capped mountains,
skiers and snowboarders. And while the cinematography is very pretty, the snowboarding
all seems to be shot in more or less the same style which gets boring rather
quickly. It's this predictability that ultimately drags the film down. It has
everything else going for it, be it the cast or dialogue, but the film fails in
making an impact because it's just so unsurprising. All in all, Chalet Girl is an above average,
charming, by the numbers, sports-oriented rom-com.