Amanda Seyfried, Julianne Moore, Liam Neeson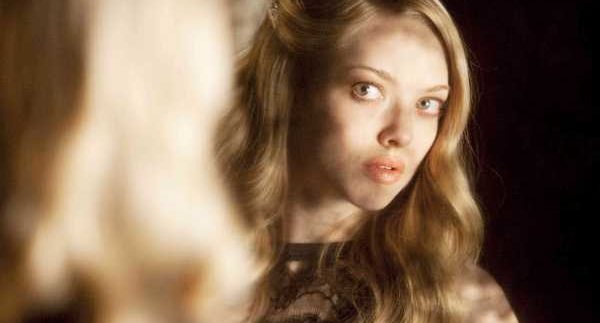 You can't hear the term 'erotic thriller' without involuntarily
blushing. It's really just an exotic euphemism for films with lots of nudity
and steamy sex scenes. But Chloe is
not just an artsy excuse for Seyfried to show off some skin; it's a
surprisingly interesting character study of a posh harlot yearning for love.
The opening frames of the film admire her contours and capture her beauty with
lush engrossment, but it never feels exploitive.
People treat others the way that they would like to be treated, and
Chloe (Seyfried) understands this to a fault. She doesn't just offer her
clients her body; deep down she can tell what they are truly yearning for, and
she finds something to admire in every soul, no matter how vain, ugly, or sad
it appears. Yes, Chloe is the kind of
film that takes very fleeting and prosaic questions and thoughtfully ponders
them as if it's a matter of life or death. Produced by the French boutique
production house StudioCanal, the film is cinematic caviar for artsy cinema snobs.
A bourgeois catastrophe ensues when Catherine's (Moore) opera expert husband David (Neeson)
misses his surprise birthday soirée for no good reason and doubts about his
fidelity sets in Catherine's heart. To her, the most logical way to find out
the truth is to hire a prostitute to seduce her flirtatious husband, and Chloe
is assigned to the case. By that point you think you know exactly where the
film is going, but writer-director Egoyan surprises us with some interesting
twists to this otherwise uncoupling setup.

The film earns your investment in this inconsequential rich-people conundrum
by making the story an allegory for love's worth. Egoyan has long pondered the
altruistic nature of love verses the compromises that it suffers in the face of
financial gratification. His camera
luxuriates, his story beats frolic; and to his credit, he injects Chloe with the right amount of
sentimentality without approaching overkill.
Yet, all that could have been in vain if Chloe wasn't brought to life by earnest performances from all the
leads. Moore and Neeson find a way to make their privileged characters
relatable and provoke some true sympathy. Other than being easy on the eyes, Seyfried
plays her part innocently and keeps it well-hidden until all the cards are on
the table.
After the end of Chloe– which
although gratifying, is a narrative let down– the film leaves some interesting
questions regarding each character's motives. It's nice food for thought, but
not likely to arouse the poetic curiosity intended. For a decidedly art-house
film, Chloe is accessible and very
much enjoyable– and yes, the sex scenes are…tastefully done.