Couples Retreat: Run Away From This One
Jon Favreau, Vince Vaughn, Faizon Love, Jason Bateman, Kristin Davis, Kristen Bell, Malin Akerman and Jean Reno.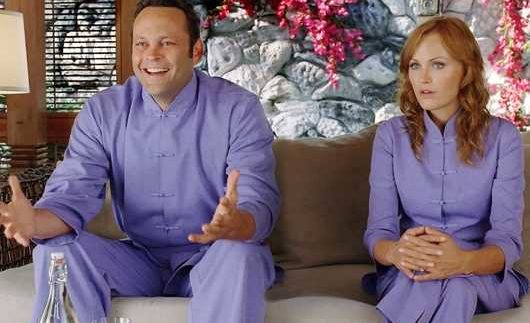 We used to like Vince Vaughn. Ever since he rose to
fame after 1996's Swingers, this
comedian has entertained us as the sarcastic, fast-talking sidekick in Mr and Mrs Smith, or as the bitter,
fast-talking sidekick in Old School. He
truly proved his bankability as a leading actor in Wedding Crashers, although
he did have to share the limelight with Owen Wilson as the commitment-phobic,
fast-talking sidekick.
Sadly, things have gone downhill for Vaughn since (Fred Clause, anyone?) and Couples Retreat is a perfect example.
Despite an all-star cast that usually performs quite
well in comedies, Couples Retreat
makes us want to quickly escape to somewhere far away from this film.
Vaughn stars alongside long-time pal Favreau in this
comedy about four Midwestern couples who embark on a journey to a tropical
island resort. One of the couples
encourage their friends to join them on a cheap package deal as they attempt
to work out their marital issues.
The others think they're onto a sweet deal of
sunbathing and jet-skiing, until they discover that couple's therapy is a mandatory
part of the package: if any of the couples fail to attend these sessions, their
package gets cancelled and they only receive a partial refund.
Of course, this
is where all hilarious mayhem ensues. Or so the trailer promises. What does
ensue is a predictable series of events, where the other couples discover
they're not as happy as they thought they were, arguments ensue and the men and
women divide into opposite ranks. Naturally and miraculously, all problems get resolved
in the last few minutes of the film.
Couples Retreat doesn't even attempt to be sharp or
clever in its humour, nor does it bother to give genuine insight into marital
problems. Instead; it's more of a
pinheads-in-paradise routine with only a few funny lines.
Based on an idea developed by Vaughn, the script seems
almost lazy in its lack of clever one-liners that launched Vaughn's career. Despite having Favreau and Bateman on board as two comedic
heavyweights, and despite the female cast including the funny Ackerman and
Bell, this film sadly falls flat.
Yet another sloppy performance by Vaughn that definitely
won't get into the upper echelons of comedy history. Not good times.