Death at a Funeral: Great Ensemble, Dismal Results
Chris Rock, Martin Lawrence, Luke Wilson, Tracy Morgan, Danny Glover, Zoe Saldana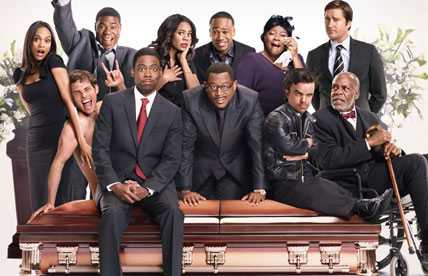 An urbanised remake of a 2007 British comedy of the same name, Death at a Funeral does not land a
single genuine laugh. A pointless remake of an average film, Death at a Funeral plays like a comedy
with a crippling lack of confidence, relying on a shiny ensemble of talented
comedians to bring it to life. Unfortunately, the film doesn't seem to have a heart
to begin with: it's mechanical, calculated and at best; childish.
The death of a father brings his family together at his funeral. The event
itself has no apparent impact on the characters, but it ties the multiple story
threads together, reuniting the two sons (Rock and Lawrence) that have been estranged for years. Add to the mix some extended family members such
as the senile old uncle (Glover), and a niece (Saldana) chased by her ex-boyfriend
(Wilson); and you have enough subplots to make the tension quite colourful.
When the funeral starts, so does the madness. A bottle of valium makes
the rounds, but no one seems to notice that it's really filled with acid pills.
The casket appears to have a tendency to open at the most hilarious moments,
and an unannounced guest drops a bombshell that you'll see coming a mile away.
Chris Rock's on-stage comedic talents have never fully translated to the
silver screen. His performances suffer from misplaced earnestness that always
rings as desperate and immature. He has no reservations about exposing his vulnerability,
as opposed to his co-star Morgan, who plays the same bumbling, loud-mouthed
buffoon in every film, never exposing the least bit of humanity. That detached
larger-than-life persona plays to his advantage on 30 Rock, where he's basically a walking punch line-dispensing
machine; but when he's positioned as an actual human, his biggest strength
turns against him.
What's most frustrating about Death
at a Funeral is its lack of investment: the film doesn't bother to explore
the plot's potential beyond the obvious poop joke and embarrassing slapstick.
Most of the quirks generate from the narrow dynamics of an average sitcom, and they
become tiresome after the 20-minute mark; the average running time of a sitcom
episode.

Death at a Funeral has a callousness
that is not only mind-numbing; it's also infectious.