Get Him to the Greek: Return of the Out-of-Control Rock Star
Jonah Hill, Russell Brand, P. Diddy, Aziz Ansari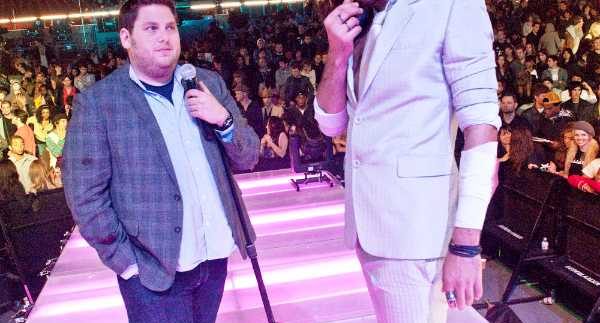 There is something unsatisfying about the
off-kilter comedic tone of Get Him to the
Greek. The film takes the zany antics of old-school rock stardom to such
bizarre extremes; that it leaves more of an avant-garde aftertaste as opposed
to just plain silly. This drinking-binge-induced burst of a film has its
classically funny moments buried in a sea of hallucination, making for a mixed
bag of raunchy pseudo philosophy and flamboyant manliness.
Not technically a sequel but more of a
spinoff from the overly sweet Forgetting Sarah
Marshall, the film starts with the return of Aldous Snow (Brand), the sober and
recently enlightened rocker; the embodiment of all the larger-than-life rock
star stereotypes. Despite his overblown ego and self-involvement, there was
something very endearing about the male diva and what Brand brought to the
character.
In Get
Him to the Greek, Snow has fallen
off the wagon again, and has consequently sunk further into a spiral of self-loathing
and drug abuse. His latest album was a critical and commercial catastrophe of
monumental proportions; not only did it earn accusations of putting an end to Snow's fumbling
career; but threatened to put a stop to music consumption at large. As some fans point out, it marks the beginning of his 'greatest hits'
era.
Aaron Green (Hill) is a devoted fan that works
at Snow's record company. During a meeting, Green
suggests that the label throw a huge concert at the Greek theatre to
commemorate the tenth anniversary of Snow's best live performances. His idea
is given the green light and he gets assigned the loathsome task of escorting
Snow from his London house to Los Angeles, where the performance will be
held. Comedy ensues as Green accompanies Snow to the US and takes
extreme measures to make sure that the rock star stays clean and sober until
his performance.
Get
Him to the Greek thrives on usual drug-related
gags, and both Hill and Brand play off each other's personas pretty well, but
the real scene-stealer of the film is Sean Combs– better known as Puff
Daddy, P. Diddy, or the stripped down Diddy– who plays the head of the record
company.
Like most Judd Apatow-produced films, Get Him to the Greek
culminates in an emotional note; but unlike Knocked
Up or Superbad, the
sentimentality here feels rather forced and the film never earns its heartwarming
gooey moments. It's not a total let-down in terms of comedy: as insane and
baffling as some of the bohemian escapades may be; most of them are still
funny.