Hot Tub Time Machine: 80s Nostalgia Galore
John Cusack, Rob Corddry, Lizzy Caplan, Chevy Chase, Craig Robinson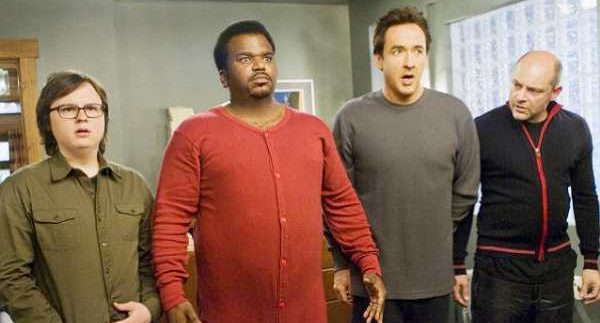 With the novelty of a 80s house party, Hot Tub Time Machine depicts a loony version of the fluorescent
decade where everyone was either clad in Day-Glo or parading around in a 'where is the beef' T-shirt.
Most of the comedy in Hot Tub
Time Machine (which, according to the trailer, is based on an
incredible true story) stems from the fact that the 80s were wacky and cheesy.
So if the idea of someone wearing an Iron Maiden T-shirt and listening to
Mötley Crüe makes you giggle, then Hot
Tub Time Machine is the film for you.
The ingenious title alone is worth your time; it's the perfect mix of
high-concept, goofiness, and forehead slapping humour. The story is about three
middle-aged friends (and a young geeky guy) who go the Ski Resort, a vacation spot where
they spent most of their teenage years, and end up going back to 1986 through a
hot tub time machine. Adam, Lou, Jacob, and Nick (Cusack, Corddry, Robinson and
Duke) have to retrace their own youthful steps so they can act the same way
they did more than 20 years ago, in order to not disrupt the delicate time
space continuum. In short, the film follows pretty much the exact same plot of
all time travel films, except our heroes are more aware of the pet peeves of
time traveling due to their extensive cinematic knowledge.
After
stepping out of the hot tub and into the 80s it all boils down to a waiting
game. The friends have to stick together until the hot tub works its time
travel magic again so they can return to the future. Until then, they find themselves
stuck in a raunchy weekend full of drugs, frontal nudity, and ski patrol
bullies. Halfway through, the laughs starts to slow down and episodes of
male-bonding and introspection take over. Hot Tub Time Machine is silly, but it also looks back
with nostalgia at the fading youth of its heroes, who are inflected with a serious
case of melancholy.
Unfortunately Hot Tub Time Machine
does not live up to the ridiculousness of its title. It's funny, but each joke
and turn feels like it lacks an edge of silliness. More or less, this could
have been the Scream of time travel
films where the characters' awareness of the absurd genre could have resulted
in some zany situations, but the films never gains enough momentum to make the crossover.
It's surprisingly mellow and gooey for a spoof sex-comedy and although the
heart in Hot Tub Time Machine is
enduring, the film fails to deliver on its ludicrous promise.
Cusack
takes a humorous stab at his Say Anything
persona, and Robinson plays more than just 'the token black friend', but it's
Corddry who stands out and delivers the biggest laughs. Falling a little short,
Hot Tub Time Machine is a
funny film that could've been hilarious, so tight roll your jeans, pop in Hot Tub Time Machine, and get ready for
a big hunk of cheese – one that doesn't
stink but is full of funny.