I'm Still Here: The Dark Side of Celebrity Culture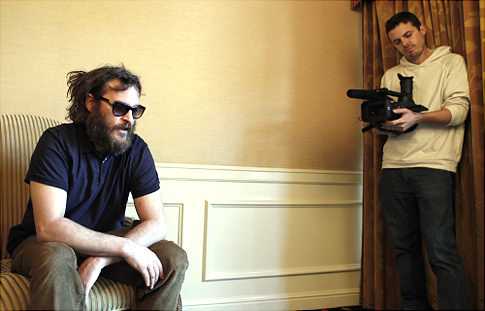 During its first week of release, questions were
raised about the authenticity of I'm
Still Here; whether the documentary was an elaborate hoax or a real account
of a personal breakdown. Following heavy media pressure, director Casey
Affleck came clean and revealed that the documentary was indeed a performance
piece; but not a hoax. He believed the term to be misguiding–
and to a larger extent, a commentary on the gossip culture.
I'm
Still Here succeeds in almost every aspect other than
being a cohesive and entertaining film. In fact, Phoenix did dedicate two
years of his life to his hip-hop persona. He actually gave up his acting career
and completely jeopardised his future and reputation; and it paid off: the
media fully took the bait, with endless news stories
about Phoenix's
decline into drug addiction and his absurd attempt at launching a new career as
a rap artist.
The media storm culminated when a dazed and passive-aggressive Phoenix appeared on
Lettermen's Late Night Show in what became the YouTube viral sensation of the
year. Affleck and Phoenix successfully engaged the media machine to make their
bidding in the world's biggest prank, but when it came to turning their inside
joke into arguments for their exposé; they seemed to be
overwhelmed, lost, and unfocused. In other words, they didn't know what to do.
The end result is two hours of random insufferable
and uncomfortable moments, and ramblings with rare glimmers of bizarre
hilarity. I'm Still Here claims to have
a train wreck appeal by being simultaneously off-putting and mesmerising; but
it never quite gets there. Affleck's choppy editing and bad timing kills any
momentum, whether comedic or dramatic; and it all feeds into the unworldly
quality of the documentary.
Still, I'm
Still Here is an alluring work of art with moments of
brilliance and extreme hilarity, as well as scenes of unnerving extremes. What's
truly admirable about it is Phoenix 's performance. It
takes a lot of stamina to fully inhabit one's dark side as Phoenix does in I'm Still Here.
Even now, after knowing that it's a hoax;
viewers will still find Phoenix's alarming
disconnection to be truly disconcerting, and his ever-growing delusion seems to
come from a real place. It's harsh and embarrassing; but intriguing in an odd
way.