Inglourious Basterds: Tarantino Takes on the Nazis
Melanie Laurent, Brad Pitt, Christoph Waltz, Diane Kruger, Eli Roth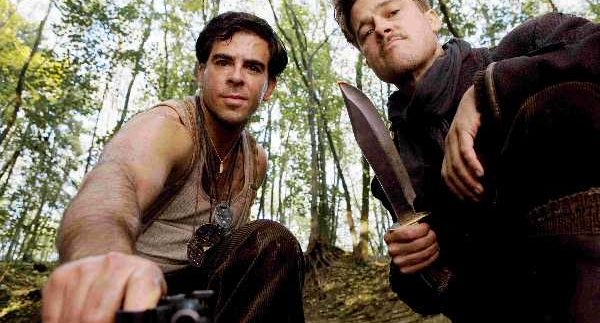 The latest offering by Quentin Tarantino seems to be a step down for this revolutionary film-maker. Still, as the highest grossing film in Tarantino's career, Inglourious Basterds is worth watching for the performances, Christoph Waltz's in particular, and the flashes of humour in the script.

Inglourious Basterds begins in German-occupied France, where Shosanna Dreyfus (Laurent) witnesses the execution of her family at the hand of Nazi Colonel Hans Landa (Waltz). Shosanna flees to Paris, where she forges a new identity as the owner and operator of a cinema.

Elsewhere in Italy, Lieutenant Aldo Raine (Pitt), who speaks with a full-on Redneck accent, organises a group of Jewish-American soldiers to engage in targeted and violent acts of retribution against the Nazis. Known to their enemy only as 'The Basterds', Raine's squad joins German actress and undercover agent Bridget Von Hammersmark (Kruger) on a mission to take down the leaders of The Third Reich. Fates converge under a cinema marquee, where Shosanna is poised to carry out a revenge plan of her own.

Though Inglourious Basterds was a box office hit, in this reviewer's opinion it's a flat, overly violent film that misses on every cinematic attempt at being clever. Critics who claim that it's Tarantino's best work should compare it to his other cinematic projects like Pulp Fiction or Kill Bill to realise what a poor showing Basterds is in comparison.

Using his signature formula of excessive violence and black humour to tackle a still-sensitive issue that may leave some viewers uncomfortable, Inglourious Basterds will definitely entertain Tarantino fans accustomed to his moral ambiguity. However, if you want to see nuance and creativity, Inglourious Basterds will leave you wanting to turn off the screen as soon as Pitt begins talking. At least Waltz offers something that neither Tarantino nor Pitt could deliver: a powerful and memorable performance.