Jeff Who Lives at Home: Sweet, Quirky Comedy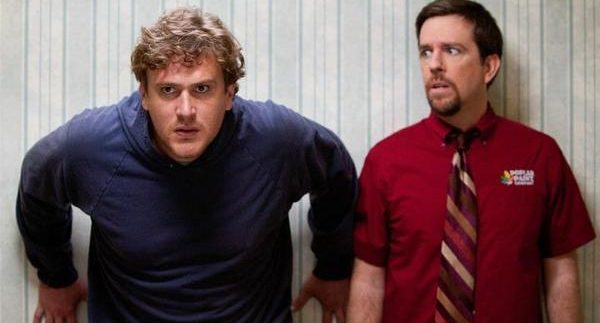 Jeff (Segal) is a 30 year old who lives in his mother's basement
and believes in signs, destiny and that kind of mumbo jumbo. His brother Pat
(Helms) is a grade A asshole whose marriage to his wife Linda (Greer) is in
shambles. Their mother (Sarandon) is dealing with a secret admirer at her
office and feelings of discontentment with the path her life has taken. The
film is about how their lives intersect over the course of one day and how the
day's events bring Jeff closer to discovering his destiny.
This isn't the kind of film you'd expect from the combination of Segel,
Greer and Helms. While it is R rated and a comedy, it's not from the Judd
Apatow school of comedy nor is it a laugh out loud kind of film. It's funny but
in a sweet way and the laughs come as a result of you empathising with the characters'
flaws and not due to one liners or wacky situations.
Segel brings sweetness to the character of Jeff; one that elevates him
above the scores of slackers permeating R rated comedies nowadays. He turns his
slackerdom into the conscious decision of a man who has offbeat priorities
instead of a result of sheer laziness. Pat is his polar opposite and a
genuinely detestable character, but Helms plays him with enough nuance to make
him an entertaining character, one that nails the forced sibling relationship
with Jeff in addition to being an awful husband to Linda. Sarandon's arc is
slightly less engaging than Jeff and Pat's but it provides the film with most
of its happy vibes, though in keeping with the rest of the film's theme, it is
tinged with melancholy.
The film has a documentary feel to it due to its filming style which is heavy
on the handheld cameras and sudden zooming. Since the film is completely built
around its characters, this decision works remarkably well. It brings you
closer to the characters and makes them seem more real. Other than that, the
film is free of any stylistic flourishes, though it's editing emphasises
whichever emotion is front and centre in any given scene, really well.
The ending is completely unexpected and brings all the characters together
while wrapping up each of their storylines without seeming overly neat or
quirky. The film as a whole is quite quirky but not in that twee, Zooey
Deschanel kind of way. Each of the characters is hurting in one way or another
and there's an undercurrent of sadness running through the film that prevents
it from getting too cute. It may be better described as unconventional rather
than quirky actually. Either way, it's sweet, entertaining and unpredictable
which sets it apart from most of the other comedies coming out this summer.