Junkhearts: Redemption Drama Marred by Shoddy Storytelling
Candese Reid

Eddie Marsan

...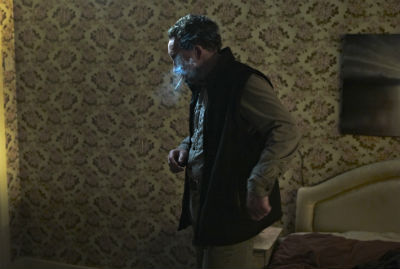 Junkhearts is
about guilt and redemption. Frank (Marsan), an ex-soldier, drinks himself into
a drunken stupor every day to escape from his past. As a young officer, he
accidently killed a woman and her baby; an incident that has since wracked him
with guilt and tearing apart his family who he hasn't seen since. He meets
Lynette (Reid), a teen runaway on and takes it upon himself to save her from
the street. He gives her a room in his house, feeds her, buys her clothes and
gives her pocket money. Lynette, who has an attitude and gratitude problem,
ends up practically inviting her good for nothing boyfriend, Danny (Sturridge),
to move in with them.

As Danny's drugs and arms dealing world come crashing
down around him, Lynette and Frank get unwittingly sucked in and end up having
to shoulder the consequences of Danny's criminal ways. Frank, as a way of doing
penance for his accidental murders, takes it upon himself to save Lynette from
both Danny and herself.
Junkhearts is
quite beautiful visually and features some pretty striking editing, especially
when Frank is being haunted by his memories. In addition to strong acting all-round
-by Marsan in particular- that's pretty much all there is to recommend the film.
His turn as, what is essentially a zombie, is heartbreaking and as a result,
the film lags whenever he isn't on screen. He beautifully portrays the agony of
living under such a heavy burden and he's able to squeeze so much out of his
encounters with the owner of the corner shop and a fisherman that he passes on
his daily walks.
Unfortunately, Marsan's strong turn as Frank isn't enough to save this
film. In fact, no amount of world class acting could have saved a story as
shoddy and as incomprehensible as this. Garai's arc, as Frank's estranged
daughter, could quite easily have been deleted. She appears for a few moments
in the first half then disappears, only to show up again in the very last scene..
Reid's character has no rhyme or reason and fluctuates between entitled brat
and helpless little girl. And while Reid does the best that could possibly have
been done with her character, it's still impossible to understand the character's
motivations.
Junkhearts is very depressing. It's also wildly infuriating both due to
the amateurish storytelling and due to the fact that a performance as brilliant
as Marsan's was wasted on a film like this.