Leaves of Grass: Meet the Norton Twins
Edward Norton, Richard Dreyfuss, Susan Sarandon, Keri Russell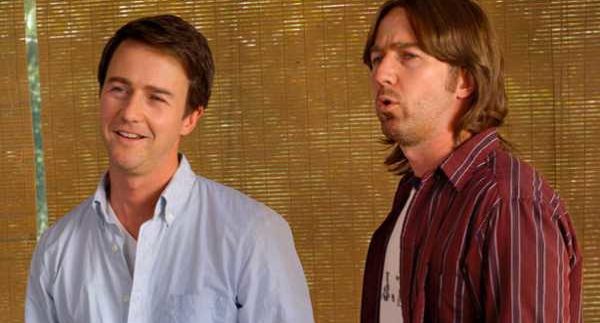 When you first lay eyes on Leaves
of Grass' poster and see Norton's dorky grin next to a pack of rolling
paper, you might mistake the film for a stoner-comedy romp in the vein of Harold & Kumar or The Big Lebowski. The film's title
reinforces the stoner theme, but despite Norton's heavy southern accent, his awful
mullet and his goofy demeanour; Leaves of
Grass is as much a stoner-comedy as Dude
Where is My Car is a hard-hitting urban-drama; which is to say the film is
not. As for the title, the film is named after a poetry book; not weed.
Setting aside this deliberate misdirection
and taking the film on its own terms, Leaves
of Grass is a confusing piece of work with ambitions that far exceed the film's abilities.
Opening with a lengthy lecture scene about philosophy with references and
hypothesis that will come into play later on in the film; Leaves of Grass'sideas
are just all over the place.
Bill and Brady are twins, both played distinguishably by the always
interesting Norton. Bill is an Ivy League professor of philosophy that has left
behind his suburban life with no intention of returning; until Brady lures him
back by faking his own death. Brady is a small pot grower that wants out of his
criminal life; and he plans a scheme to escape his drug lords by having his
identical twin impersonate him. At first, Bill shows strong resistance to his
brother's pleads; but half-way through the film, he
finally succumbs to his perpetual nagging.
As brilliantly as Norton embodies both brothers,
Leaves of Grass's building tension never
fully releases. The film drags on for the most part, but then it sporadically
bursts with scenes of gun shots and blood that feel more discombobulated than shocking.
Director Nelson attempts to weave an intriguing crime film that borrows heavily
from the Coen Brothers' early work; but he doesn't have the eye or appreciation
for balance that the Coens possess.
Leaves of Grass has its moments,
but those ultimately get lost within the film's mood-swinging plot twists.
Norton is a pleasure to watch as usual, but we wish that his talents were lent
to a more capable film.