Monsieur Lazhar: Heartwarming French-Candian Film
Danielle Proulx

Émilien Néron

...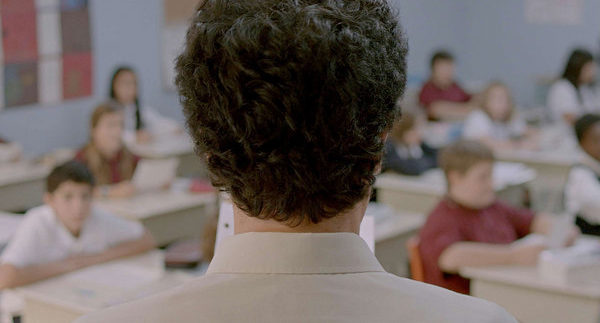 It all begins with a tragedy, when two young pupils discover the lifeless body of their beloved teacher hanging from the classroom ceiling. The event sends shockwaves through the school, leaving both teachers and pupils in a state of mayhem. In comes M. Bachir Lazhar (Fellag); a soft-spoken Algerian immigrant who learned of the news in the local newspaper and offers himself as the replacement teacher.
He promptly charms the somewhat cynical principal Ms. Vaillancourt (Proulx), who at first is a little hesitant to his slightly mystical presence, and soon takes over the 'broken' classroom. The film's heart also lies with the two students who were unfortunate enough to discover the body. Alice (Nélisse) is a bright-eyed, straight A student, who deals with her own troubles of an absent parent on daily basis. The tender-looking Simon (Néron) suffers a level of guilt for his teacher's demise and is a problematic student as a result.
The task at hand is one of many challenges for M. Lazhar. Nevertheless, with his own personal suffering set aside, its details slowly unravel throughout the film; he takes the kids under his caring wing and slowly starts guiding them to the truth.
The plot sounds a little dark and gloomy, yet writer-director Philippe Falardeau manages to uplift it in the most submissive fashion. Regrettably, the same cannot be said for some American filmmakers who have attempted to develop a similar approach to their filmmaking; there are no surges of unnecessary emotional outpours and there seems to be a legitimate sense of people filtering their pain through their daily routine. The story is evenly- paced and crisp, much like the cold wintery days of Quebec. Falardeau's directing relies heavily on the gentle still shots of his leading man and it was clear that the actor's beaming grin and sad eyes are the main source of the success that this film endured. The Canadian filmmaker's soft and naturalistic touch to every scene complements the tone of Monsieur Lazhar; giving the film a real edge and a hint of realism.
Fellag's interpretation of M. Lazhar is a delightful surprise. Though slightly old-fashioned in his teaching methods, trying to get to grips on a modernised education system, Lazhar is portrayed as loyal and caring. From beginning to end, we are embraced with his warmth and affection. The same can be said for the outstanding performances by both child actors, Alice and Simon. The level of maturity and the profound strength they bring to their roles is nothing short of mesmerising.
Even though there are a couple of stories left untold and never really get the chance to develop into anything, Monsieur Lazhar succeeds in what it was meant to be; a gentle film with strong impact.