Mystery Team: Internet Comedy Sensation Invades Your Screen
D.C. Pierson, Donald Glover, Dominic Dierkes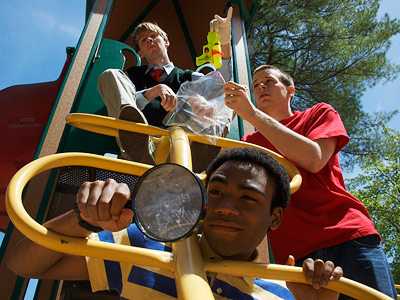 Ushering in a new age of comedy
democratisation; YouTube, College-humour and Funny-or-Die have inspired a
paradigm shift in the comedy world. Still considered to be at an infantile
stage, their full effect isn't palpable yet. The shift is inevitable, though,
and Mystery Team is one of its early
outcomes.
Comedy troupe Derrick
Comedy has been dispensing hilarious shorts on YouTube since 2006, and they
have been laying the foundation for internet sketch comedy. By 2008, they had saved
enough money in their piggy banks to shoot a feature film; so they went ahead
and made the young-detective homage Mystery Team.
Mystery Team revolves
around three friends arrested in a state of perpetual juvenile development.
They are a few months away from college yet still drink chocolate milk and
shout out 'Gross' when describing girls, and as if that wasn't enough to
abominate their social life, the trio formed a Nancy-Drew-like crime-solving
outfit called the Mystery Team. Aided by
fake moustaches and cheesy Halloween customs, they solved notorious crimes like
the curious case of the fingered pie and the cat on the tree. The
team is faced with its biggest challenge when a heartbroken six-year-old asks
them to investigate her parents' death. Completely incompetent, the Mystery Team accepts the case and hilarity ensues.
The film plays it straight without a hint of irony. It
takes the wistful innocence of a Disney special and displaces it in the raunchy
world of strip clubs and coke dealers. This disparity provides the laughter in Mystery
Team. However, the film suffers
from all the symptoms of an overstretched sketch, while the amateurish execution
and low production values surely don't help. That is not to say that Mystery Team deserves a FAIL tag on its
poster; on the contrary, the film manages to squeeze a lot out of its
shoe-string budget. It just doesn't escape the confines of a straight-to-DVD
feature.
With the exception of Donald Glover, Derrick Comedy's
players come off as anxious and a little wary, but the supporting cast full of
alt-comedy fixtures helps them carry the film along. The script, which was written by the troupe, is overstuffed with hit-and-miss
one-liners and gross moments. It works for those who like the particular brand
of humour; but others might find the film just peculiar. Mystery
Team might offer the most to
alt-comedy fans and aspiring internet comedians– it's a good case study;
unfortunately it's too twee and uneven to hold the interest of the casual
viewer.