Perfect Sense: Unnerving, Intimate Take on the Apocalypse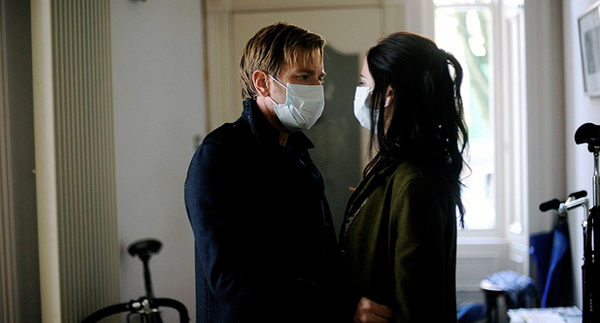 Cut from the same cloth as Contagion,
Perfect Sense examines the apocalypse
but with nary a supernatural element in sight. In this film, the world as we
know it comes to an end in the form of a succession of assaults on the human
senses, depriving humans of the ability to
first smell then taste, hear and finally, see. But where Contagion was overly focused on the clinical, Perfect Sense takes a more human approach. In addition to the
clinical, as represented by Green's epidemiologist character, it examines how
people deal with and adapt to the sensory loss and resulting panic. Green and
McGregor's relationship is at the centre of the plot, with brief montages every
so often of people all around the world either succumbing to the sensory loss
or trying to move forwards with their lives. As a result, and in this
reviewer's opinion, it's scarier than Contagion.
Perfect Sense has
great leads in both Green and McGregor who play Susan, an epidemiologist, and
Michael, a chef, respectively. They gradually gravitate towards each other, sleeping together
yet wary of becoming too committed. As the world's human population loses one
sense after the other, their relationship takes on a new sense of urgency as
they do their best to experience all that their remaining senses have to offer
before they're robbed of them too.
Each sensory loss is preceded by an intense emotional episode such as
misery, hunger, anger or happiness, and right before the human population is
about to lose a sense, we take a break from our two leads and are shown a
montage of people around the world dealing with the intense emotion, coupled
with a voiceover describing the scene.

While the misery montage is filled
with people looking anguished in slow motion, the hunger montagewas thoroughly chilling, in which
people would revert to their most animalistic, stuff anything in their mouths
and fight over scraps of food. It managed to show
people at their most primal and instinctual, and hammered home just how much of
a slave we are to our senses.

The film does a great job of evoking life without
our senses. When the humans lose their hearing, some pretty awesome sound
design was used to make it seem like the world was underwater. Coupled with the
score, it manages to be very unnerving.
Michael's job as a chef was a stroke of genius. Food engages all the
senses and when one of them dies, a huge part of the culinary experience goes
with it. The chefs would adapt their cooking styles according to the specific
senses they were trying to please. When people lost their sense of smell and
taste, they focused on sound and texture. When people then lost their hearing,
a greater importance was attached to the way the food looked. This showed just how resilient people are in the face of change and how
they learn to adapt.
This reviewer's one quibble with the film is that the intermittent
narration was rather jarring; it would have been better if it had been made by
one of the leads instead of an impartial observer. The choice of narrator distracts the viewers, creating this back and forth effect where we're sucked into the leads' story then forced to
retreat.
Perfect Sense is
an apocalyptic film on the most intimate scale possible. It's scary, thought-provoking
and eye-opening all at once.