Putty Hill: Intimate Drama that Breaks the Fourth Wall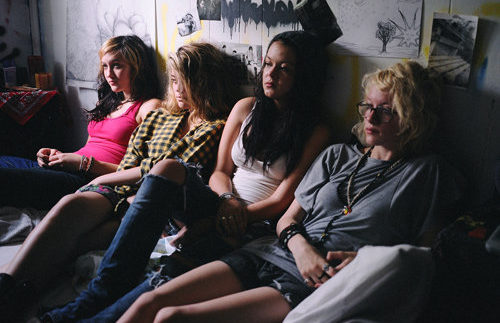 Watching
Putty Hill is a rather strange experience.
The film, which revolves around how a teenager's overdose and subsequent death
affects his family and friends in his small, working class town, is a
narrative/documentary hybrid and it takes the concept of intimacy in fictional
films to new levels. The film, successfully and impressively, flits back and
forth between the two styles. For the most part it unfolds like a conventional
film, albeit one that's intentionally styled to look as real or un-cinematic as
possible. Every now and again though, a character will stare into the camera
and answer questions about themselves posed by the filmmaker's disembodied
voice. This technique doesn't really provide us with much information about the
characters, especially seeing as nothing much happens in the film in the first
place. What it does do however, is really bring you into the setting, giving it
an almost home-video vibe. You're glued to the screen because it feels so real
and so honest, even if you've never seen a trailer park in your life.
The
film is absolutely tiny, both in budget and scope, and its biggest claim to
fame is, oddly enough, pop singer Sky Ferreira. The rest of the cast is mainly
made up of people with no prior acting experience, essentially playing
themselves. The bulk of the film is improvised and all these elements together
make the movie raw and honest and most commendably, the film manages to
completely avoid feeling intrusive or pretentious. Above all it's respectful of
the community. The neighbourhood is essentially a trailer park, filled with
what would commonly be referred to as 'white trash', and even though this is
the director's home turf so to speak, it's still refreshing that they're not
the butt of any jokes.
Porterfield
has achieved something hugely impressive; he's managed to make an improvised
movie (there was no script, only a short treatment) using regular people that
is immensely watchable and not just in relation to the circumstances it was
made under, but in relation to movies in general. It's a slice of real life,
with all the beauty and banality that involves in film form.