Khaled El Sawy

Rania Youssef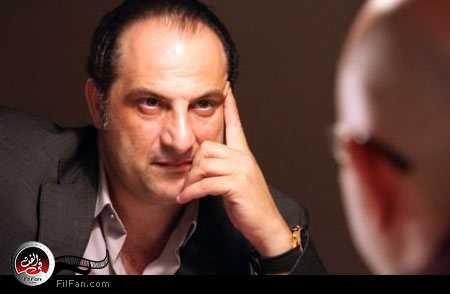 Every Ramadan, the annual TV series race takes place in Egypt; where literally
hundreds of shows, series and programs air during the month. Egyptian stars
struggle to find that perfect script, through which they would woo viewers for
the entire month. It's extremely hard for us poor couch potatoes to figure out
which ones to follow, yet by the end of the first week it's easier to pin-point
the worthwhile shows.
This year, actor Khalid El Sawy gets to run in the race with his social
drama Ahl Cairo (The People of Cairo). Having earned his place over the years as one
of the best actors of his generation and having played leading roles in several
Egyptian blockbusters such as The Yacoubian
Building, El Sawy excels in almost every role he plays.
Ahl Cairo is basically an
action thriller revolving around a murder that Sawy (playing Detective Hassan Mahfouz)
attempts to solve. The story unravels through the problems that face him during
his search for the murderer. A wide range of stars co-star, including Rania
Youssef, Zaky Fateen Abdel Wahab and Syrian actress Kenda Alwash.
The series' script manages to slice down all the characters in a manner
that seems to psychologically analyse Egyptian society (hence the name Ahl Cairo). Each character represents a social
category of people that exists in our daily lives that everyone can relate to.
There is the socialite Safi Selim
(played by Rania Youssef), who originates from a poor slum area and marries her
way to wealth and social standing to her groom Sherief (played by Zaky Fateen), who's lived his
entire life abroad and is culturally shocked by the double standards of Cairene
society. There is the character of Dalia (played by Kenda Alwash), an honest
journalist struggling in a world of hypocrisy and lies, and whose editor-in-chief
is one of the most corrupt men in Cairo.
Khaled El Sawy fits perfectly into his role as the police detective. He manages
to thoroughly convince viewers with his displays of deduction and analysis. His
performance is natural, and he portrays his character with a sharp wit. Rania
Youssef excels as the nouveaux-riche elite; contrasting her sexy-classy looks with
coarse language throughout the show.
You would never guess that this is only director Mohamed Ali's second production.
The sophistication of technique of camera movement and editing are outstanding,
and the smooth flow of the scenes makes the many shot-takes undetectable and the
result is almost cinematic.
The one thing that could be held against writer Belal Fadl is the fact
that the story is a little too similar to the themes of Naguib Mahfouz's Al Mozneboon.