Eyad Nassar, Hassan El Raddad, Yousra El Lozy, Ezzat El Alaily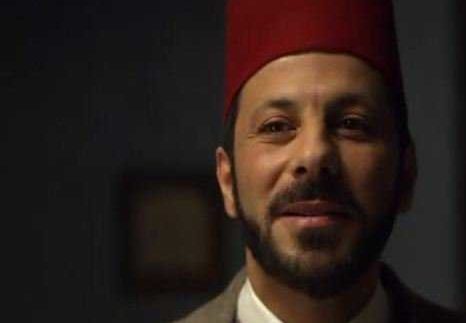 The
born-again-fundamentalist has been a favourite stock character for Egyptian serial
writers ever since the invention of fake beards. However, the angry bearded
brethren never quite captured the undivided attention of TV audiences until writer
Waheed Hamed finally took matters in his own hands and wrote a swooping saga in
their honour.
Al Gamaa
(The Group) mostly chronicles the humble beginnings of the Muslim brotherhood
and its founder Hassan Al Banna (Nassar). To give this biographical tale an
extra layer of eminence, the story is given a contemporary frame.
Events take
place during 2005 where Ashraf Helal (El Raddad), a curious Public Prosecutor, is
about to interrogate a bunch of students that belong to the brotherhood, and he
asks Abdalah Kasaab (El Alaily) to tell him the history of the notorious group.
The retired
Chancellor starts to narrate the early days of Al Banna's life. After that, Al Gamaa makes a semi-permanent jump to
the past and Al Banna's story becomes the centre of the series.
We first
meet the young Al Banna, whose story progresses through many philosophical
debates with detractors and potential followers. It grows tiresome at times,
but the series routinely injects some real conflict to sustain attention. The middle section of Al Banna's life is
where it gets really devoid of any real drama. It was a phase of prosperity,
but as we move closer towards the end, the story's pace picks up again, as the last
period in Al Banna's life was packed with clashes and opposition.
Al Gamaa is at the high end of this month's production
spectrum. The show is directed by Mohamed Yasine in his first foray into
television drama, giving Al Gamaa a
cinematically crisp picture– courtesy of the Red One cameras used– and film quality.
Scenes are staged using visually arresting angles, unlike the monotonous
over-the-shoulder back and forth shots that Egyptian serials are famous for.
Eyad Nassar's
portrayal of Al Banna is such a delight to watch, even when the actor delivers lengthily
monologues. Nassar displays a deep understanding of his craft and his character's
history. He doesn't rely on overblown theatrics; instead, for the most part
he's reserved. When the moment calls for
a strong reaction, Nassar unleashes a menacing beast through his body language
only. His performance captivates your attention, yet it never overshadows the narrative.
Equally
effective are the supporting cast and the dozen of cameos by A-list actors such
as Menna Shalaby, Ahmed Helmy and Ahmed El Fishawy. Credit goes to director
Yasine, who guided his actors to heartfelt performances that turned otherwise
procedural scenes into eminent moments of social reflection.
Al Gamaa doesn't follow the usual narrative trajectory
of dramas. It's less concerned with forming an engaging plot and more
interested in criticising the current social and political sphere. It attempts
to present a subjective outlook, but the show's producers can't shake off their
bias. To their credit, they didn't antagonise Al Banna, but instead his portrayal
is very charismatic and admirable, suggesting that he might have been a
misunderstood figure.
Al Gamaa is a very dense and entertaining show that has
raised the bar for TV drama. It's a refreshing alternative to domestic serials,
and it lingers even after the credits roll.