Fathy Abdel Wahab

Sulaf Fawakherji

...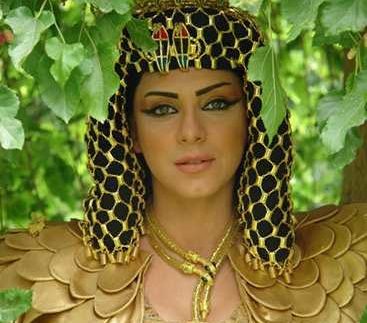 Cleopatra's historic legacy
lies in her great beauty, her ability to to seduce powerful men, and having
Egypt's best-selling local cigarette brand named after her. So it's only
natural for Egyptian TV to adapt her bio after exhausting nearly all
contemporary figures known to Egyptians.
This Ramadan, TV
series Cleopatra portrays the last
pharaoh of Egypt as played by Syrian star Sulaf Fawakherji, who made a career
out of playing goddesses with tragic endings. And unlike Elizabeth Taylor's portrayal
of the queen, this version doesn't reduce Cleopatra to a damsel with a string
of doomed love affairs. Instead, it follows her beginnings and focuses on her
relationship with her father, Ptolemy (Youssef Shaaban), and how she became the
heir to the throne after his death.
In usual epic-drama
tradition, all characters enunciate their lines in classical Arabic and spend
their time engaged in heated debates about nobility and the importance of
loyalty.
Cleopatra starts during Ptolemy's rule of Egypt. Cleopatra's older sister Berenice
is jealous that her father favours Cleopatra, and so she plans to overthrow him
and take the throne. Berenice wins the support of a few army men and together,
they succeed in overthrowing Ptolemy. Meanwhile, Cleopatra meets and falls in
love with Cary (Abdel Wahab), an Egyptian bandit that becomes entangled in this
royal drama.
Fawakherji embodies
Cleopatra with her usual grace. She nails the look and projects the queen's
sharp ambition well. Her Cleopatra is more of a misunderstood sweetheart as
opposed to the sinister queen that many assumed her to be. However, the rest of the cast are more
outwardly frantic. Aided by the dramatic way of speaking in classical Arabic,
every other actor plays his part as if it's a matter of life-and-death. Shaaban as the father gets to flex his
theatrical background and add some urgency to the equation.
Syrian landscapes fill
in for B.C. Alexandria and Rome where most of the events take place, which is
great as the scenery looks foreign to our eyes, therefore solidifying the
illusion of the story taking place in bygone times. Directed by Wael Ramadan
(Fawakherji's husband), the show plays in the vein of the usual Syrian epic dramas:
it squeezes every bit out of their budget and heightens the melodrama, which, depending
on your personal taste, makes or
breaks Cleopatra.
Cleopatra at times feels very derivative of Hollywood epics, especially those by director
Ridley Scott (Gladiator, Kingdom of
Heaven). The show's score abuses the use of the operatic moaning lady,
which at first fills the air with sorrow, but quickly turns annoying. Furthermore,
battle scenes are shot and slapped together hastily, failing to cover any
geographical scope; yet they do not hold back on showing blood, huge amounts of
it in fact.
Cleopatra airs on seven different channels, including Al Kahera Wal Nas every day
at 1PM and 11PM, and Mehwar at 9PM.