Ali El-Tayeb, Dalia Shahine, Kariem Maghawry, Mostafa Omar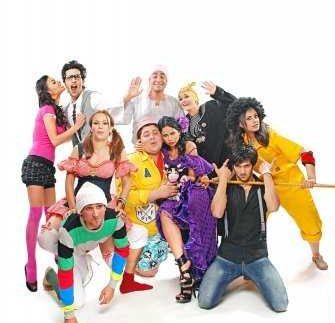 A typical
sitcom in the States usually involves a creative team of at least a dozen
writers, a year-long production schedule, and a roster of talented actors to
bring it to life. The result is an average of 22 episodes per season of quality
comedic programming. Now take all these factors out of the equations and demand
30 episodes to be produced in two months, and you get what equates to a
laughter black hole.
Mesh Friends (Not Friends) possesses the elemental
qualities of a sitcom. It has a lone location in which most of the numbing
shenanigans take place, a clearly defined set-up, and a cast of colourful
characters; each with his own shtick. What it lacks is everything else.
The cast of
newcomers might mature into capable actors down the line, but at the time being
they all showcase an alarming lack of comedic sensibility. It's admirable that they
move ahead with so much faith in their own talent, but it's also a testament
to their lack of foresight; a poor judgment call that explains the rest of the
symptomatic problems of the sitcom.
The premise
of the show focuses on five different couples who find themselves victims of real
estate fraud. They all have been sold the same apartment in Zamalek, so they
are left with no other choice but to share the (surprisingly convenient) five-bedroom
flat. There is the über-classy couple, two middle-class couples and the
obligatory upper-Egyptians; an indispensable ingredient to formulaic funnies.
Entering
and leaving the household accounts for 95% of the show's plot twists, and the
rest is usually built around a single predicament of little to no stakes. For
example, in one episode, the girls fight over the TV's remote control while in
another one of them has a secret that the rest of the cast can't wait to
uncover. Problems usually occur while seated comfortably on the living room couch
or in one of the bedrooms. Resolutions usually come after tedious exchanges, in
which one joke gets abused and stretched until all ten cast members got their
say.
You know that
a show has thrown in the towel when jokes are followed by audible cues to
underline the fact that they were supposed to be funny. Other attempts to
highlight the comedic nature of the show take place during the intro, where
characters playfully try to choke each other to death.
As most
shows airing on Moga Comedy Channel, the show looks as if it was directed by a
box of Crayolas. The main set looks more colourful than a candy shop, and if
that doesn't disorient you, then the cast's hot-coloured outfits most certainly
will.