Starred Up: Gritty, Award-Winning British Prison Drama
Ben Mendelsohn

Jack O'Connell

...
Titled from a popular term which describes the early transfer of a young offender from a juvenile detention facility to an adult penitentiary, Starred Up is by no means an easy watch. However, as much as it is difficult to digest at times, there is a certain poetic beauty behind its seemingly violent and destructive quality that makes it difficult to look away from.
Shot within the walls of an abandoned Belfast prison, the film opens with troubled nineteen-year-old Eric Love (O'Connell) undergoing an embarrassing admittance process, involving a complete body strip down, as he's transferred into an adult reformatory.
Immediately marked as a "single cell, high risk" type detainee, it doesn't take long for Eric – whose frequent and violent outbursts got him relocated there in the first place – to stir up trouble and make enemies both with fellow inmates and security guards.
After a mistaken attack on another inmate lands the young delinquent into the disciplinary hands of the law, Eric is soon approached – and rescued – by the in-house therapist, Oliver Braumer (Friend), who believes that he can help the young man rehabilitate.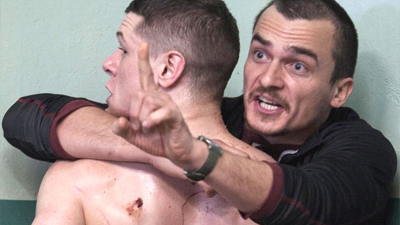 Unfortunately, getting to the root of Eric's problems – and getting him to open up – is no easy task and Oliver – together with the other rehabilitating convicts – often find themselves the targets of both verbal and physical abuse. To top it off, Eric has to find a way to learn to share the walls of his new confinements with his estranged father, Nev (Mendelsohn), who is currently serving a life-sentence in the same prison.
Penned by first-time screenwriter Jonathan Asser – a former prison psychotherapist whose own experience with the British penal-system adds a hefty dose of authenticity and realism to the film – Starred Up, told through a series of wordless and violent expositions, is fuelled with gripping intensity which is hard to shake off. Relying on action, rather than words, the uniqueness – and the heart – of the story lies with the father-son narrative, whose bonding difficulties are depicted through the oppressiveness of life in prison.
Contributing to the movie's relentless and uncompromising approach to despair and violence, O'Connell – mostly known for his role in the British TV-series Skins and recently seen as the lead in Angelina Jolie's war-drama Unbroken – is an absolute standout; feral and unpredictable, his performance carries the film, while Mendelsohn is equally superb as a man whose persona and motives are seemingly hard to read.
Powerful, emotional but never too sentimental, Starred Up is a true British-prison drama classic whose quietly yielding power and passion for storytelling will leave you feeling captivated and moved.